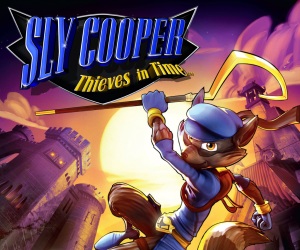 Although the latest (and first proper PlayStation 3) Sly Cooper has been out a while in North America, over here in Europe the game is yet to be released. While we wait for the March 27 release date to come, Sony are releasing character vignette videos – this time it's the turn of Murray.
For those aren't familiar with Murray, he's not only the gang's getaway driver, but also the brawn of the bunch. Why? Well, because he's a hippo, essentially. Using his powerful hippo-fists, he'll smash the enemy to pieces, and…well, he's funny to look at.
For convenience, we've also dropped the previous two vignettes underneath the newly released Murray one. The other two feature Carmelita and wheelchair-bound tech-head Turtle, Bentley.
Murray:
Carmelita:
Bentley:
Sly Cooper: Thieves in Time is available now in North America, but will be released on March 27 in Europe for PlayStation 3 and PS Vita.