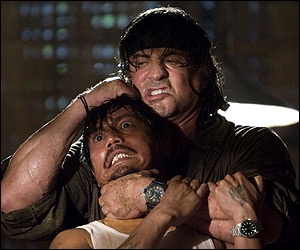 I apologise if that headline startled you, but news like this cannot be delivered lightly. Sylvester "my face is melting" Stallone and Richard Crenna (Col. Samuel Trautman) will be reprising their roles from the First Blood movies, in the upcoming video game adaptation…sort of.
Well, publisher of Rambo: The Video Game Reef Entertainment, has confirmed that they will be using the original voice tracks of one Stallone and Crenna, from the original movies. Someone at Reef said that;
"Our goal is to produce the finest Rambo video game ever made. To do that, we are including dialogue, special effects, and music from the movies."
The game will take place across the first three films in the series – First Blood, First Blood Part II and Rambo III. I never understood the naming convention behind those movies. How do you jump from First Blood Part II, to Rambo III? Anyway, it doesn't matter 'cause whilst playing the game you won't have to listen to some piss-poor imitation of Rocky Balboa. Success.
Below, you can check out some of the screenshots for the game which is headed to PC, 360 and PS3, some time this year. Motherflippin' Rambo!!!
[nggallery id=1351]
Rambo: The Video Game will be released in 2013 for Windows PC, Xbox 360 and PlayStation 3