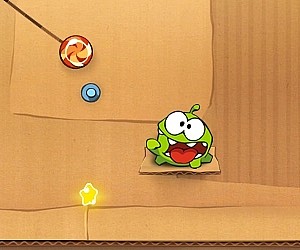 3DS owners, you're in for a treat. One of the most celebrated (and for good reason) games on iOS is Cut The Rope and now it's coming to Nintendo's handheld – we've learned via Nintendo World Report.
Announced at the iDEAME indie development conference in Madrid, Abylight will be handling the port. They're back catalogue consists mainly of WiiWare and DSiWare, with this version of Cut The Rope being their first eShop title.
The game's original developer Zeptolab will be publishing the game, which will include the extra levels and mechanics that were seen in updates for the game on iOS.
Truly one of the better games on the App Store, it's great to hear that 3DS owners who may have not played the game before will get a chance to do so.  It wasn't that long ago that Zeptolab said they have a number of games coming out this year, so it would be nice to get an announcement of something new from them, in the near future.