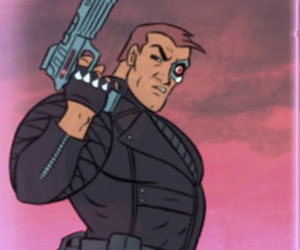 Far Cry 3: Blood Dragon, the standalone game sharing the mechanics of Ubisoft's hit 2012 shooter and little else, has got a new barmy live-action trailer.
The latest promo charts the beginning of the Cyber War which leads into the events of Blood Dragon. We see terrorist group Omega gain control of the world's androids and detonate a nuclear bomb in Los Angeles.
Blood Dragon is set in a post-apocalyptic version of 2007 seen through a prism of neon-drenched 80s era of video nasties and rampant machismo.
Sounds mental right?
For (some) context take a look at the announcement trailer here.
Blood Dragon was around for a while before it was officially announced, some even believing it to be an April Fools hoax.
Then the day prior to Ubisoft confirming the game's existence it became available online to those willing to exploit a hole in U-Play, Ubisoft's digital distribution and DRM platform.
Coming to PC, XBLA and PSN, Far Cry 3: Blood Dragon arrives on May 1st.