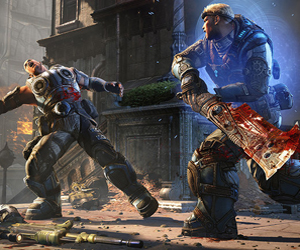 More Gears of War: Judgment multiplayer is on the way in the form of the Call to Arms Map Pack – which VIP Season Pass holders will be able to play on April 23 and everyone else will gain access on April 30, for 1000 Microsoft Points.
The DLC adds three new maps, six armour and gun skins and a brand new mode called Master at Arms. In a free-for all, players must get kills with all of the 20 different weapons at your disposal – excluding grenades and melee combat. With every kill, a new weapon becomes available and this repeats itself until you become the most skilled mass murderer in the match.
In terms of the new maps: Blood Drive takes place in a hospital, Boneyard is a burial ground of sorts for the fallen victims of Sera and Terminal is set in a train station and doesn't include either Tom Hanks, or Catherine Zeta-Jones.
Adding 10 new achievements worth 250 gamerscore, this will give you Gears diehards something to dabble in, next week – or the week after if you're not a Season Pass holder.
[nggallery id=1450]
Gears of War: Judgment is available now for Xbox 360