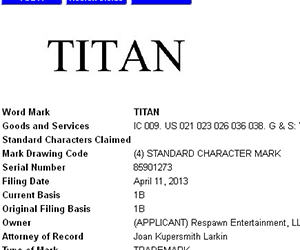 Respawn Entertainment have trademarked "Titan", which could potentially be the title of their as-of-yet unannounced first project.
Respawn was founded by Jason West and Vince Zampella, who founded Call of Duty-developer Infinity Ward and left in 2010.
They have since been working on a project for EA, which is believed to now be called Titan in some capacity.
Whether that's the actual title or a project codename remains to be seen.
The trademark was first spotted by NeoGAF's Sn4ke_911, who posted a screenshot confirming the trademark was filled last week, on the 11th. 

All we know of the project now is that it's a shooter, it's science fiction-orientated and it might be called Titan.
It is believed to be released either late this year or, more likely, next year.