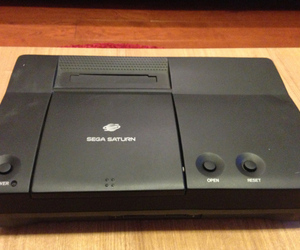 A few days ago, a former Sega employee claimed they had a Pluto in their possession. At first, many were confused as to what exactly is was, but in layman's terms: it's a Sega Saturn with a NetLink modem. Over on the Assembler Forums, going by the name of Super Magnetic, the poster detailed the feel of the system and also added some photos, which you can see below.
"This thing is a beast, and definitely the heaviest console I've ever held in my hands. The front features two controller ports, and on top you have a flip-top drive bay, a cart slot, a Power button, and the venerable Reset button. Note that the logo still says Saturn, so I'm guessing the Pluto codename was simply that, and they were thinking of branding it with the Saturn name … The left and right sides feature beautiful-and-exotic vents, while the back is standard Saturn, save for the Netlink ports."
Super Magnetic also added that there were two in existence and his was #2. Then, a Destructoid reader contacted the website and informed them that he was in possession of #1.
kidvid666 has also posted a video on YouTube where you can see that the console is in working order. The lid won't stay closed, but other than that, it appears to be in good shape. The most incredible thing about this is that kidvid666 told Dtoid, he picked the Pluto up for a measly $1 at a flea market/car boot sale.
In the video, which you can watch below, the young man sounds like he'll be putting the Pluto on eBay which will surely earn him some serious cash with Sega fans and retro collectors on the prowl for the console that never was.
[nggallery id=1449]