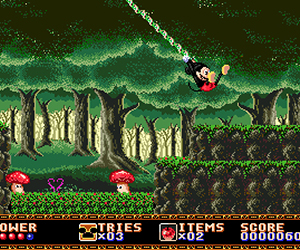 First Duck Tales, now this. It's a Disney revival, this Summer!
It seems that publishers are really catching on to the fact that gamers of a certain age (such as myself), really love old Disney games. So they're starting to bring them back – Hooray!
Already we've seen that Capcom are re-releasing the NES's Duck Tales, and this YouTube video from SEGA of America's account seems to be teasing something Mickey Mouse in Castle of Illusion-related.
Castle of Illusion was a very early Sega Mega Drive game, in which you played the plucky rodent as he bounces through several platforming stages to rescue his beloved Minnie from the evil witch Mizrabel. The game was given a followup in the form of the brilliant World of Illusion Starting Mickey Mouse & Donald Duck, as well as a semi-sequel of sorts, when Disney Interactive Studios and DreamRift brought us Epic Mickey: The Power of Illusion for Nintendo 3DS last year. It wasn't that great.
Nothing else has been confirmed, over than the fact that whatever this video is for, it's coming out in Summer 2013. It's safe to guess that this is likely to come out on Xbox Live Arcade, PlayStation Network, and maybe even Wii U.