Sam Fisher is on his way to Nintendo's newest console.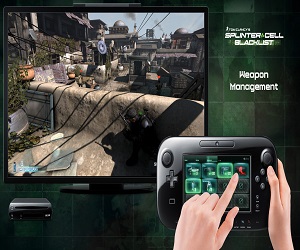 4th Echelon is sneaking up on Wii U as well with this revealing trailer.
While we wait for Sam Fisher's latest stealth adventure this August, Ubisoft has given us another look into the game, this time into the just announced Wii U version. It was announced at last year's E3 for other consoles, but this is is the first look at the GamePad integration.
"Ubisoft confirms that Tom Clancy's Splinter Cell® Blacklist™ is coming to Wii U on August 23 in the UK. Tom Clancy's Splinter Cell Blacklist on Wii U will deliver a unique gaming experience that puts players in the role of special operative and 4th Echelon leader, Sam Fisher. Showcasing enhanced gameplay features using the Wii U GamePad, Tom Clancy's Splinter Cell Blacklist allows players to operate innovative gadgets, execute Killing in Motion efficiently to take out enemies and move through the environment, and intuitively switch between weapons, among other features. The GamePad touch screen along with motion-based inputs are sure to immerse fans and gamers alike in this thrilling modern-day adventure."
Well, that confirms it, after months of rumors, Splinter Cell Blacklist is coming to Wii U, in addition to previously announced platforms. I must say, using the GamePad may come in handy to handle the inventory while I survey my next kill.
Splinter Cell: Blacklist will be released on August 23 in Europe and August 20 in North America for the Xbox 360, PlayStation 3, PC, and Wii U.