Run. Jump. Slide. Jump. Glide. Kick. Wall-run. Dive. Run. Jump. Swing. Bounce. Smile.
Such a simple chain of commands, and, when considered individually, not at all daunting. However, stringing them together at break-neck speed as the world collapses beneath you, a runaway chest gallops away into the distance or a swarm of demonic critters tumbles hungrily towards you a like a tidal wave of gnashing teeth and googly-eyes is an altogether different task. But, as anyone who played 2011's amazing Rayman Origins will attest, that is the beauty of the Armless One.
Momentum.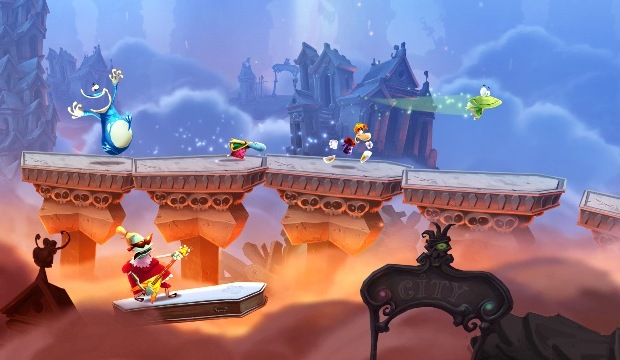 Rayman is not about carefully-considered jumps, precise timing or helpful power-ups. Rayman bases his entire survival strategy on moving forward, often blindly, relying as much on dumb luck as reflex and reaction to see him through. More often than not when playing through Origins, maintaining momentum is the key to success, and brand new formerly-Wii u-exclusive-but-now-multi-platform Rayman Legends is no different. If anything, momentum is even more important.
Having now played through around 20 stages from Legends, I would happily wager my left ear that no matter what the rest of the game is like (and there is a lot, lot more than what I've seen), it's going to be incredible. If you played through the demo released earlier this year, you'll have already seen the first stage and one of the genius musical levels, but, to coin a cliche, you ain't seen nothing yet. Happily, I can tell you that the core gameplay remains almost identical to Origins. Ubisoft have left all the good stuff intact, removed all the (admittedly minor) bad stuff, and added on heaps of awesome.
The level select screen (as you may have seen in the demo) has had an overhaul. This is because the storyline, while doing nothing radically different from the usual Rayman narrative (Glade of Dreams in trouble, Nightmares attacking, Teensies and Lums need rescuing, etc…), now has all the various worlds connected to the Glade of Dreams accessible through magical portraits in the Dreamer's Gallery. You can run around the Gallery as much as you like, and must simply leap into a painting to enter a world-hub, begin a level or select a character (of which there are now way more). It's more aesthetically appealing and user friendly than Origins' clunky world map, and certainly easier than running around the various branches of the Glade of Dreams.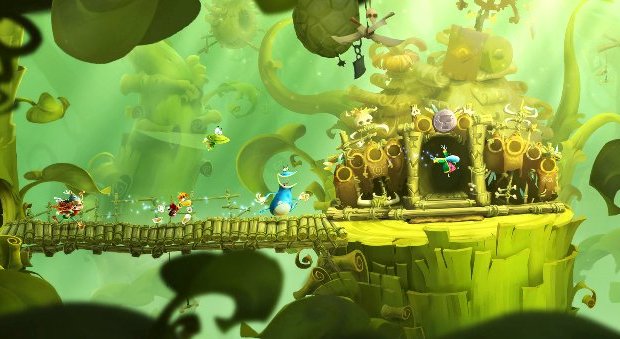 The "vanilla" stages are very similar to Origins, seeing you navigate various dangers collecting Lums and freeing trapped Teensies along the way. At the end of a stage you're now awarded bronze, silver or gold cups depending on how many Teensies you rescued. Lums are used as currency rather than a method of scoring, and you can use them to unlock new Heroes in the Gallery. Collect enough in a stage and you'll unlock that stage's Lucky Ticket, which in turn opens up secret levels. There's also an experience system now, presented as an "Awesomeness Level". The better you score, the more Awesomeness Points you earn, and the more challenges you unlock as a reward. It's all geared towards giving you reasons to replay levels over and over again, and absolutely succeeds as a lure.
But it's the new stages that impress the most. The chest-chases are gone now, unless you jump into the "Back to Origins painting" where you can replay a selection of 40 levels from the last game. These stages remain exactly as you remember, but with a tweaked aesthetic to bring them in-line with Legends' quirky look. Only a few were available in the preview build, with Swinging Caves from the Jibberish Jungle and the chest-chase from Mystical Pique being the two most enjoyable. Instead, you're now presented with several different variants on the infinite-runner style of the chest-chase, including Swarm levels and the aforementioned musical levels.
The Swarm stage is as ominous as it sounds, as a deranged pack of chomping fur-balls is unleashed behind you and you must stay ahead of it at all times, sometimes doubling back on yourself in coin's-edge turns that will test your reflexes every time. Charging through the level just inches ahead of their ravenous teeth is exhilarating, and presents a welcome change from having to chase a target down. The musical levels, on the other hand, are all about timing, hitting the jump button at the right moment while running flat-out. Any hesitance, or even the simplest of mistakes, will see you fail and have to begin again. The beauty is that every jump you perform, every obstacle you destroy, every Lum you collect, or zip-line you slide down is in conjunction with a musical note that matches the beat of the song that's playing. The rhythm is hypnotic and addictive, and I've rarely experienced as much joy as a gamer as I did rushing through a level to the beat of a warped Mariachi version of Eye of the Tiger. It's close to actual genius.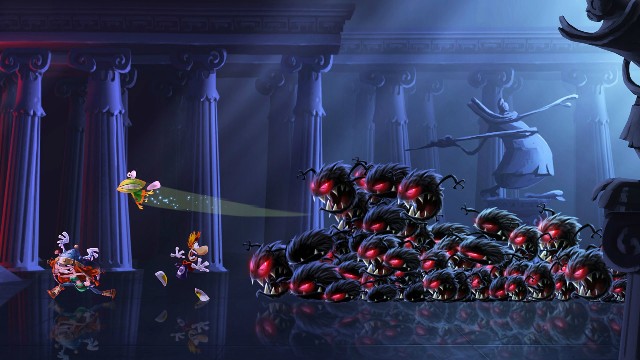 Likewise, the time-trial version of a completed level has been replaced in Legends by "Invaded" levels. These feature re-jiggled areas from a previously completed stage overrun by new enemies, that must be completed in a certain time to save the highest number of trapped Lums. A few of them switch it up by making you run from right to left for the whole level, which is just alien enough to make you feel slightly confused. A few boss fights were included in the preview, including a ruck against a giant Luchadore wrestler complete with silly mask. These boss fights change the nature of what the game is by removing the comforting safety net of momentum and forcing you react to varying attacks, seek out the safe spots in an area and figure out the weak points in your opponent. If anything, I found the Luchadore fight a little frustrating, but that might only be because I sucked at it.
The biggest addition, however, is Murphy, the cute little flying green frog thing that is sent by the Dreamer to wake up Rayman, Globox and the other legendary heroes. His levels add an entirely new dimension to the gameplay, as you'll have to control him to manipulate various key elements of a stage, such as moving platforms to shield Rayman from falling fireballs or, for example, tickling a giant enemy so that you can despatch him quickly. On the PS3 version, you control Murphy with the Circle button, but on the Wii U it's all done using the touch screens, creating a much more tactile and involving experience. Four player co-op will also return, allowing you to smash through levels in tandem with your friends.
As mentioned, the aesthetic has been tweaked slightly. The overall look and feel remains the same as Origins, but the new levels (particularly the Ancient Greece-inspired Olympus Maximus levels) are gorgeous throughout, each conveying a distinct, unique atmosphere. The controls are identical and so fans of the last game will have no problem diving straight into the action. Once again, though, one of the greatest strengths is the musical direction. Each stage's music is finely honed to reflect the mood and tone of the level at the very point you're playing, and some of the tracks are incredible. That being said, Ubisoft will need to go a long way to top that version of Eye of the Tiger.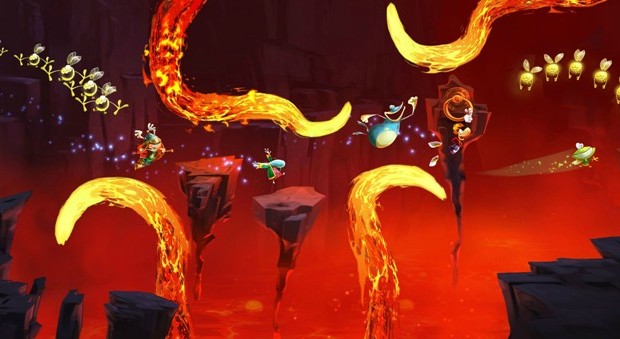 On one hand, it's sad to think that this game truly could have been the Wii U's killer app; but on the other hand, the fact that the owners of any current platform will get to experience it is worth celebrating. Based on what I've seen so far, Rayman Legends is looking absolutely amazing. The difficulty still spikes in places, and there are a lot of moments that seem to rely more on luck than judgement to overcome, but if the overall package continues to support the trends exhibited in the levels I have played, it's going to be fantastic.
Momentum is the key to everything in Rayman Legends; it's the driving force behind every turning cog, and the vital ingredient to blasting through every deadly obstacle with your eyes half-shut and your mouth cracked open, laughing maniacally. You will run, you will jump, you will slide, glide, dive, kick, bounce and swing and – much more importantly – you will smile. And smile. And smile. And smile.
[nggallery id=1570]