When Ubisoft announced The Crew – a co-operative, open world racing game – at E3 earlier this year, it looked exciting and  vastly different from other racing games out there. At the Ubisoft Digital Days event in Paris we got the chance to sit down with Charles-Arthur Bourget, International Product Manager of 'The Crew', to find out just what the game is all about, and how it came to be.
With The Crew you are offering gamers a different type of driving game. What did the team want to achieve with the game?
Exactly that – the guys are based in Lyon France, and the core team worked on Test Drive Unlimited. The problem that they were wrapping their heads around was how do we change the status quo in driving games. As driving games have been going in circles for many years – with a lot of simulation for example. The first answer was variety. So how do you add variety to a driving game? What we did was to create the whole of the USA. Not just the roads, but everything in between; the forests, Monument Valley, and more. In order for the players to enjoy every inch of the terrain, we made sure that we supplied them with the right tools. So this applies to the customisation in the game. You can equip your car with different body parts and kit depending on the terrain. Then on top of that, the whole game is part of a persistent online world. Other cars around you could be A.I., they could be real drivers, who you could choose to ignore, or to interact with.
How many players can the game support?
Millions of players, but for obvious reasons we have limited the number of players you can have around you. Obviously it would be no fun to have a world that is full of congestion. So we have limited it to seven players around you, and you can co-op with four players to jump into missions. So the whole game can be played as an individual, or as part of a team – hence the name, The Crew.
What was your inspiration or influences behind the theme and design?
We were looking to build on Test Drive Unlimited – how to take it to the next level. We obviously look at other driving franchises and competitors games, but we don't want to be a copycat. We spent five years on the game, starting as a small team in order to realise the vision, we created our own tools to create the massive world.
So is it right that you began development of the game as a current generation title, and then it shifted to become a next generation one?
It is difficult to pinpoint when we shifted to next gen. When I spoke with my director, it was pretty obvious that we needed to switch to the next-gen. The requirements to have a world that huge, and also the activity and life that you see in the world. In many other driving games the streets are pretty much dead. It was important to us that there was traffic and civilians – that it was living and breathing.
The idea if single player games that blend seamlessly into multiplayer ones has suddenly grown very popular. Why do you think that is?
When you look at the PC market, they have been used to this for some time. We are in the process of integrating this online element into console games. I would say that it is an industry trend, and it is also something that enables us to provide a fresh experience – as obviously you can choose to enjoy the game as an individual, and we won't force the player to play with others, but then maybe you will struggle with a mission or hook up with friends for a better experience. The way that you approach a mission may dramatically change – for instance, in a takedown mission you might come up with strategies to compete the mission. Or in a race, you could decide who will go for each checkpoint.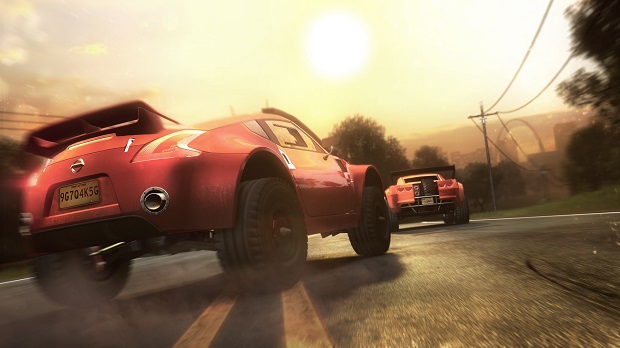 When playing through the game normally, are there ways to simply keep track of your friends in the game, no matter where they are across America?
Absolutely, we do this with the world map. Basically, the way in which we session players in groups is ordered in a way that is relevant to the player. First you see your friends, then those from the same country, then those with the same level or network connection. They are people who you may wish to connect with – not just total strangers. And we also make it easier to befriend people and connect – making it easier to follow them and jump into games on the go to tackle missions together.
The Crew has sometimes been referred to as an MMO, is building a large community of gamers important, and how do you aim to do so?
That is a very interesting question. Obviously it is a shared world and community based. We want the world to be for car addicts, but also beginners. We hope that communities will build around the game. It is a something we have in mind, depending on the sales of the title – we would love to provide players with weekly challenges and such, for example. We want people to take advantage of the huge playground that we have available. You can already create your own missions by setting waypoints and creating races for you and your friends, with your own parameters. We have many plans post-release.
We'd like to thank Charles-Arthur Bourget for his time. The Crew is due to be released on Xbox One, PlayStation 4 and Windows PC in the first quarter of 2014.