"The World's First Open Ear Wireless Bluetooth Headphones"
If you're looking for a new pair of Bluetooth headphones for your PlayStation 3 and/or PlayStation 4, AfterShokz might have the perfect solution for you. Quite a statement to start a review with, but bear with us.
The Bluez headset from AfterShokz is open-ear thanks to its patent-pending "bone conduction" technology. We've had bone conducting microphones in bluetooth headphones for a long time now, which have saved us from having long retractable microphones pointing to the mouth, but bone conducting speakers is a whole new ball game. The headphone speakers sit directly on the bone in front of your ear, conducting sounds through your skull to your ear canal. The major advantage here is that your ears are completely open, to hear everything that is going on around you.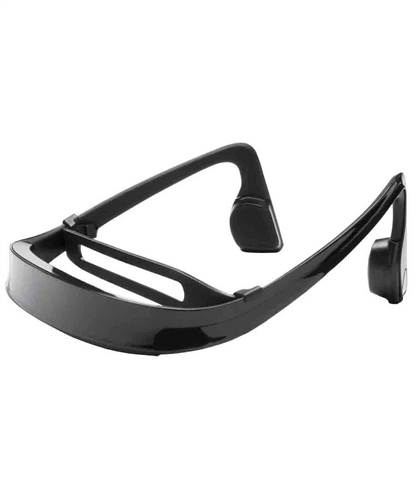 Of course, the Bluez are being marketed towards people who partake in physical outdoor activities, such as jogging, who may need to hear what's going on around them. However, we think these headphones make the perfect headset for PlayStation gamers. Imagine you have fantastic sound emitting from your TV, or even better, your surround sound setup. You don't particularly want to cover up one of your ears with a headset in order to communicate with your friends online. Well, you no longer have to; simply pop on a Bluez headset and you can hear your friends without blocking or interfering with the audio from the game. Of course, you can use the in-built microphone to talk back to your friends on the PS3/4, just as you would were you using this headset with your mobile phone.
The actual sound quality is good. It's not great, so if you're using it for music you're not going to get the best experience, but it's perfectly suitable for audio-communications.
The AfterShokz Bluez are available for £95.96 / $71.99 from Amazon UK | US.
Features:
Speaker type: Dual suspension bone conduction
Sensitivity: 100 ± 3dB
Frequency response: 20Hz – 20KHz
Microphone: -41dB ± 3dB
Bluetooth: 2.1 +EDR
Compatible Bluetooth Profiles: A2DP, AVRCP, HSP, HFP
Wirelless Range: 10 m / 33 ft
Battery: Rechargeable 250 mAh Lithium Ion battery
Playback time: Up to 6 hours at low volume*
Charging time: 3 hours (using included micro USB to USB cable)
LED indicator for operation, low battery and charging
Weight: 48 g / 1.7 ounces
Color: Black with black transducer pads
Warranty: 2-Year