The Deponia saga finally comes to an end with Goodbye Deponia, over a year after the first game debuted last August. Not much has changed in this comedy point and click aside some minor refinements, but it does offer an adequate conclusion to the trilogy that should satisfy fans of the series.
Seeing as how we're starting at the end, you may want to check out our reviews of the previous chapters for a more detailed look at the series' beginnings, but I'll give you the abridged version: Deponia is a planet covered in trash, with a tiny few settlements desperately trying to survive while the upper class live off-planet in the paradise that is Elysium. You play as Rufus, lovable scoundrel and dumpster-diver, who seeks a new life on Elysium while also trying to find his father, who abandoned him as a child. Rufus is aided by Goal, an Elysian with memory issues, and a ragtag bunch of wannabe heroes. Attempting to thwart Rufus' plans are the Organon, a group of cyber-bullies, and Goal's evil fiancée, Cletus. In the second chapter we learn that Deponia is due to be destroyed, so Rufus' quest becomes even more important so he can get to Elysium and prove there is still life left on Deponia.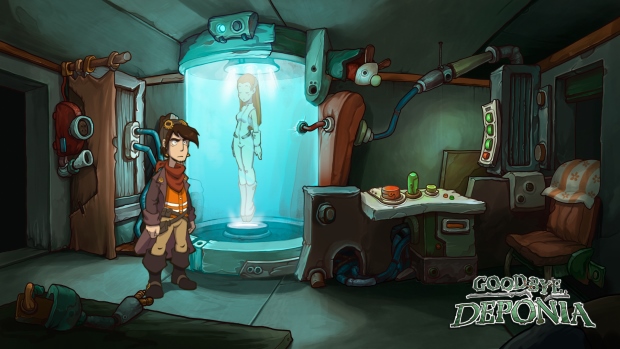 So that's the story so far – well, a very short version, anyway. Chapter 3 picks up immediately where 2 left off, with Rufus and the gang's sight still set on Elysium. After a pretty disastrous monorail incident, the action moves to a bizarre hotel packed with an impressive cast of wacky characters. When Cletus arrives on the scene, it gives Rufus the chance to pull the old switcheroo by disguising himself as the goateed goon. To explain anymore from here would be kind of spoilerific but the game trots along at a nice pace only to finish on a somewhat unexpected note.
There are some slightly out-of-place darker turns here and there and the ending is not all sunshine and rainbows. There is a certain amount of ambiguity to it, leaving the door open for Deponia 4 should Daedalic Entertainment feel the need to keep going.
There aren't any major changes to the gameplay from the previous outings or the point and click genre in general; it relies on tried and tested mouse controls and the usual puzzles, with a few special tasks thrown in for good measure.
The inventory system, accessed via the mouse wheel, is very large and at times you'll find yourself carting around a large, seemingly random collection of items. This can make some puzzles harder to solve, as you try to combine them in ways mixtures in the hope of getting some results. Goodbye Deponia rests on the slightly surreal side of things so get ready to find weird solutions to weird problems – logic can take a bit of a back seat role in the problem solving. Daedalic have chosen to refine rather than innovate here, but they at least iron out any problems from earlier in the series.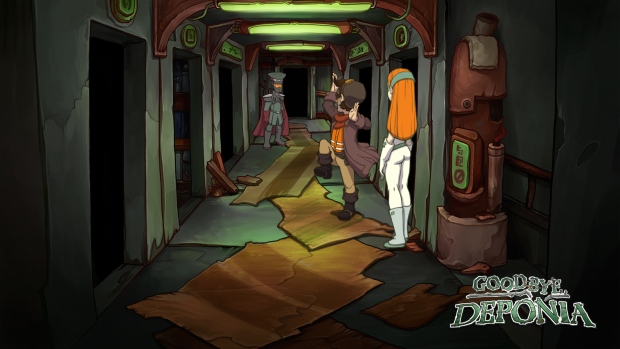 Localization was one of these notable problems and, after some improvements in the second chapter, the issue is almost completely resolved in the final act. Some jokes that may not have landed due to poor translation from German are now just fine. They're still not very funny, but at least it's not a language barrier issue anymore. It does have its moments, but overall it misses the mark more than it hits it.
That said, it can in no way be attributed to the voice talents. The acting is top notch, with great performances all round, particularly Rufus. In fact the sound design is excellent, background scores are both unique and charming, and the transitions between locations are punctuated by delightful acoustic ballads, sung by a strange man with a very odd accent. The whole soundscape adds so much to the atmosphere of Deponia, and complements the visually styling perfectly. The hand-drawn graphics are rich and very easy on the eye, although the rough, jittery animations do detract slightly. But it doesn't take away from the wonderfully trashy lived-in world Daedalic have created.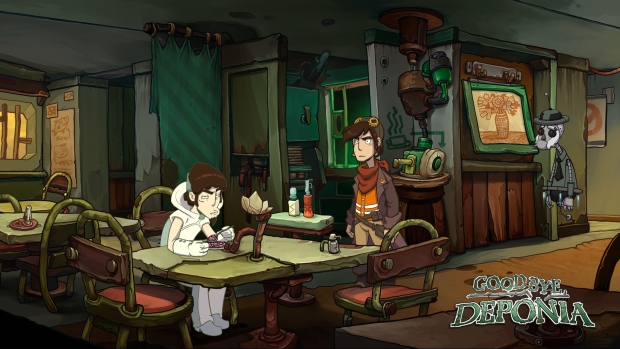 VERDICT: After a long wait, the Deponia saga finally comes to a close with Goodbye Deponia and in doing so says farewell to an excellent trilogy. They may have hit minor issues in the beginning, but they should be applauded for tackling these head on for the subsequent releases. With complaints over the length of some chapters, the translation issues and the long wait for this last chapter, the trilogy is definitely greater than the sum of its parts. It's a great time to dive in to the world of Rufus and co., now that you have the whole tale ready and waiting to be explored.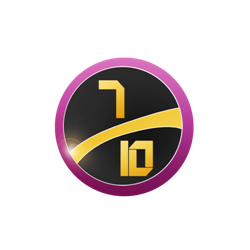 GOOD. A game that scores 7/10 is worthy of note, but unworthy of fanfare. It does many things well, but only a few of them incredibly well and, despite a handful of good qualities, fresh ideas and solid mechanics, it fails to overwhelm.