Gaming headsets are typically judged in three primary ways: Are they comfortable to wear for long sessions? Do the headset and microphone sound good? And of course, is the set affordable? The Plantronics RIG easily delivers in two of these three areas. The headphones are quite comfortable, and they deliver solid sound quality from both the speakers and the boom microphone. However, the mixer peripheral – the multitasking feature that Plantronics hopes will sell the package – solves a problem that I'm not sure existed to begin with. It's also responsible for kicking the price point up to $129.99, which is rather steep for a wired stereo headset. Regardless, the RIG is a strong setup that is unlikely to disappoint in any other areas.
First impressions of the headset are positive all around. It's an attractive-looking unit and is surprisingly lightweight. It fits snugly enough to feel stable but loose enough to avoid feeling tight. The ear cups are large enough to fit around the outer ears without leaning against them. They are also covered in a breathable cloth (as is the headband) making the RIG extremely comfortable to wear with minimal sweating compared to other heavier, tighter headsets. I can only wear my Logitech G35 set for an hour or so before my outer ear starts to physically hurt, but I was able to wear the Plantronics RIG for marathon sessions with little fatigue in contrast.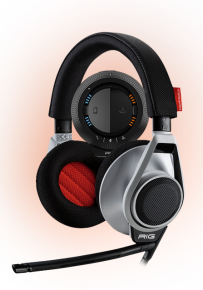 The situation becomes slightly less luxurious when it comes to actually hooking the headset up to your PC or console. It's plug-and-play with no proprietary drivers to load, making things a snap from a software perspective. However, there are several cables to contend with thanks to the puck-shaped mixer peripheral.
The mixer needs two connections to work properly: a USB connection for the microphone, and another connection for the game audio (3.5" or optical). It's a little confusing at first; the included diagram doesn't clearly specify which connector  (USB or 3.5") is dedicated to the microphone and which is for the game audio. It's confusing because the headset can operate through the USB for both audio and mic, but the mixer won't work as intended in that configuration. The optical connector is the best choice for audio when using a console like the Xbox 360 or the PlayStation 4, but the RIG does not come packaged with an optical cable – an odd and frustrating oversight when the package costs as much as it does already.
After that, it's smooth sailing. The headset attaches to the mixer via a flat 3.5" cable and you're in business with booming game audio and crisp microphone communication. The mixer has an adjustable outer ring that controls overall audio volume, and also includes an easily accessible microphone mute button in the front. There's a button that toggles between three EQ settings (Pure, Intensify, and Seismic), though the differences are subtle. The Seismic setting cranks the bass, and Intensify is slightly brighter, but all three are perfectly acceptable.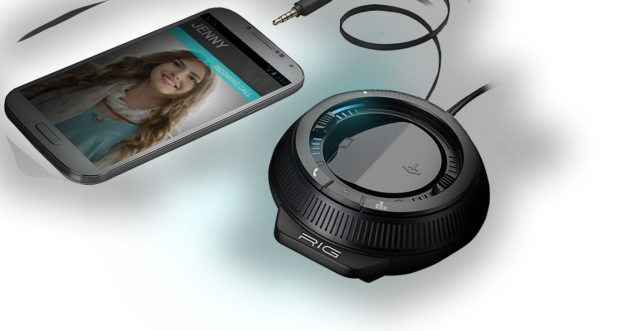 In order to utilize the RIG's multitasking calling card, you'll use yet one more cable to connect from the mixer to the 3.5" jack on your smartphone. With the setup complete, you now have the ability to use the large rocking switch in the center of your mixer to choose which device (your phone or your game console) will receive the microphone input from the headset. If you're in the middle of an online game and your phone rings, you'll hear the ring in your headphones. Just hit the phone button on your mixer to answer and flip the rocker switch left to talk. You'll still have the game audio in your headphones but the person on the other end of your phone call will only hear your voice; your in-game buddies won't hear your mic again until you flip the rocker switch back. The functionality is topped off by individual volume sliders for the game and phone audio making adjustments quick and effortless.
The mixer works as advertised: you can switch between chatting on the phone or chatting in-game with the flip of a button, and you never have to remove your headset or stop playing. However, this seems to be solving a problem that doesn't commonly exist. It's sure to come in handy for long MMO raids or lengthy League of Legends marathons, but it's debatable how many players will make regular use of this functionality, particularly with how much phone communication is accomplished through text messaging rather than voice.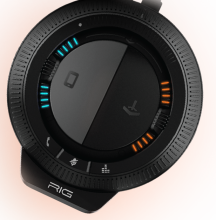 It's also worth mentioning that this setup leaves you with a hefty amount of cables lying around. The included ones are long enough to allow for usage from a solid distance away from your PC or console, but you're best served to be playing at a desk where you can comfortably sit the mixer for easy access – not as convenient from a couch or a bed. To top it off, if you're playing a long enough session to warrant hooking your phone up, you may want to have your phone connected to a charger as well, which is yet another cable to contend with. You'd also better hope that you can easily set up the mixer to your left, as the cable connecting to your headset is fixed to the left speaker.
VERDICT: The Plantronics RIG headset is a solid unit. Lightweight and breathable, it might be the most comfortable gaming headset I've used to date, and nary a functional hiccup is to be found. However, you're paying a premium for a phone multitasking feature that you might not use. The headphone and microphone audio quality are each great, but the $129.99 asking price typically offers wireless connectivity and surround sound features in other packages.
That said, if the audio multitasking sounds like a feature you'd make regular use of, it works flawlessly with the RIG. And even if you never make use of the phone connectivity, the mixer is convenient for easy access to master volume and microphone mute. If a wired setup isn't an issue for you and stereo audio will suffice (and especially if you can find it on a sale), the Plantronics RIG is a recommendable choice for those marathon sessions where comfort and reliability are paramount.
Review sample provided by manufacturer.