Apple released iOS 8 to the world a few weeks ago, and as with any iOS release, app developers rush to get their app updates out. With iOS 7, tons of big name apps had redesigns ready from the get go and with iOS 8, the same apps get supercharged functionality wise. iOS 8 brings proper inter app communication and the implementation is great. There's no crowding of unneeded services every time to try and share something here. Notification Center widgets and support for Touch ID in third party apps are the other two notable features iOS 8 brought to end users. These are some of my favourite iOS 8 app updates.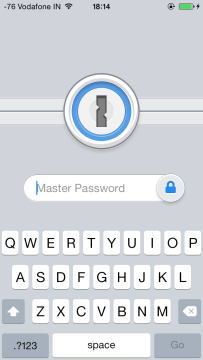 1Password 5
Security on the internet is the most important aspect of your digital life. Far too many people reuse passwords or have simple passwords that are easy to remember. Things need to change. Two-Step authentication on every account you have is a must. Here's a handy list of services that offer two step authentication. 1Password is the best password manager out there. In version 5 it adds support to unlock using Touch ID or your master password and has a new mobile Safari widget that lets you login to your sites with ease. The app is available for free on the App Store with an optional in app purchase for certain pro features.
Breaking News+
Chances are your local news source has an app on iOS. I've tried quite a few news apps on iOS but Breaking News+ by NBC has the best design and functionality. With iOS 8 it gets a today widget that has the latest headlines and topics. The app is more polished than most apps you will use. The colours used are great, and you can customize it to tailor to your favourite topics.
PCalc and PCalc Lite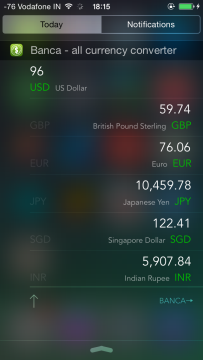 Having quick access to a calculator is great. iOS 7 let you access it in one swipe for control centre followed by tapping the calculator icon at the bottom. With iOS 8 and widgets, the most popular calculator app, PCalc received a huge update. This update brings a widget that is accessible in your notification center at all times. It is super convenient and looks great. The app itself has set the bar high for calculator apps in general. I love the auto theme change based on location and sunset. PCalc Lite is available for free on the App Store and PCalc is available for £6.99 on the App Store. Both apps are universal.
Banca – All Currency Converter
Banca is not just a great looking currency converter but thanks to the widget, it also lets you get conversions done incredibly fast. You just need to copy text that has a currency mentioned and swipe down notification center. The widget has the conversion ready. The widget can be expanded to display other conversions as well and the result can be tapped to copy to clipboard. The implementation is really great. I love how it works even if you copy extra content like how Amazon displays "and free shipping" after the price. Banca is available for $1.99/£1.49 and it is a universal app.
Mikhail is what we'd consider an expert on mobile apps, but (like him) we're always happy to hear what you think. Use an app you think is better for the given task? Sound off in the comments below.