Persona 4: Dancing All Night Disco Fever Edition Announced
Atlus USA has just announced the special edition for the game we've all been waiting for.
Persona 4: Dancing All Night (henceforth P4DAN), the story driven music game, gets a special edition in the "Disco Fever" edition.
This special edition includes a full 2 CD soundtrack, a Vita carrying pouch, a Teddie keychain, 2 sets of costume DLC, and a skin with matching wallpapers for the latest Vita model.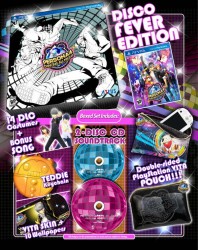 The standard edition retail preorders will include the skin and 10 wallpapers to match the skin.
P4DAN is set to launch this fall on PS Vita in the Americas and it is PS TV compatible.
The Disco Fever edition will retail at $79.99 while the standard edition will be $49.99.