Virtual reality –– the bigger, bolder but essentially more high maintenance cousin of console gaming –– is stepping out in a big way this year. From Oculus finally releasing their Rift headset early next year after almost four years of development to Sony and HTC releasing their Morpheus and Vive headsets before the end of this year, VR has come a long way from being a mere fantasy to a living reality (if you'll pardon the pun).
However, in terms of big title games, the market is scarce. Demos pop up all the time, like a browser without Ad Block, but never seem to amount to much: always disappearing before ripening or being overshadowed by a bigger, juicier loinfruit. A title that has stayed at the forefront of the VR games scene is adventure-mystery title The Assembly, developed by nDreams. Th game aims to deliver a story-led adventure which delves deep into the history of a mysterious organisation hidden from the world, which has been experimenting outside the constraints of government scrutiny and society's morals. I was given the chance to play a couple of demo levels, which you can read about here.
I was also fortunate enough to have the opportunity to interview CEO of nDreams VR, Patrick O'Luanaigh as well as senior designer Jackie Tetley. Anxious to pick their brains over the development of a VR title, still a very unknown realm to me, I got stuck right in.
With VR only being an emerging market at the moment, with no-one really apart from developers in possession of the bigger headsets on the scene, it must be asked how the companies behind the VR revolution do to help the visionaries building games for their headsets. With technology as volatile and rapidly evolving as VR, developers need that support network their when things go a bit pear-shaped, so what kind of assistance do these companies provide?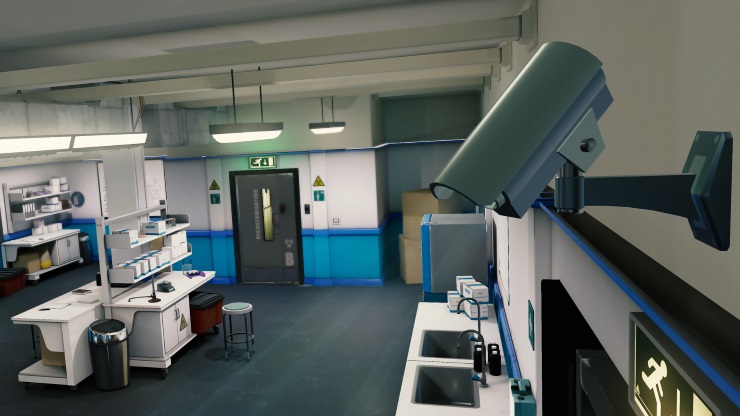 Patrick: "The support hasn't be too bad actually, we've been very lucky that Sony and Oculus have been really good actually. It's a challenge, because when you're developing for hardware that's constantly evolving, it makes things a little bit tricky and we've had a few issues like that."
"The other thing is, design-wise, there's been a lot of challenges and we've been doing so many prototypes, experiments and tests over the last couple of years to go through into VR. Some things we thought that would obviously work well were truly horrible and some things we thought would never work worked really well. We've been learning particularly things like the user interface, UI in-game is really hard for VR and you have to think very carefully like that. Obvious things like you can't do cutscenes but just movement, and how you do movement and making sure it feels comfortable.
"In all honesty, they've been really really good. They've both got teams of people that support, not just technically, but design-wise and helping with hardware, with problems and that kind of stuff. We've been really impressed actually, it's made the whole process of developing for VR much easier with those guys supporting us. It's vital to be honest with you, given how much the hardware is changing."
"They're also open to us saying 'We think you're wrong on that' and this is how it should be. There were some things they said at the beginning that they thought should be a rule in VR that we've gone 'No, it shouldn't', so we're not just listening, we're giving them a bit of input and feedback as well which is quite fun."
With little uptake of VR at the moment, most people –– when they finally get their hands on the headset of their choosing –– will be totally new to the experience. I, for one, experienced mild motion sickness after about 20 minutes playing and I'm not usually prone to such symptoms. So, with my stomach still partially churning from the demo, I had to ask: What kind of mechanics are in there to help VR virgins as such, overcome that initial curve?
Patrick: "We've got a few different control options: there's a comfort mode which isn't in there at the moment, which is a nice option for the very small handful of people that don't get to grips with using the traditional controller. Most people tend to get the hang of it after a few days but we've got a few different controls and they offer a different way of experiencing VR."
It's not only the headset creators that can provide support: Jackie assured me that the community of VR developers do a lot to help each other out. Working towards the same goal, she said that it was only natural to provide support and learn from each others breakthroughs and mistakes.
Jackie: "We've learned so much that out next title will be like a breeze! You know, other peoples demos and games are coming along and coming out, and everyone is collectively as a developer community are getting more experienced together by sharing what they've learned and that's all very useful."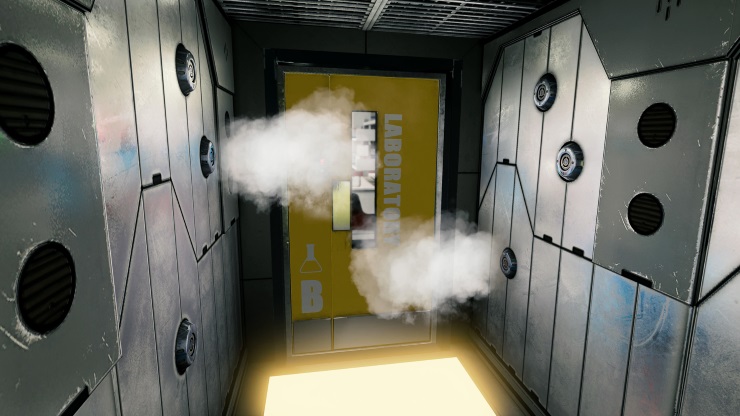 Patrick: "You'll see standards develop, like standards control systems or standard ways of displaying minimum specs, even how to do subtitles in VR: all these things that everyone hasn't quite got a clue how they're doing and they're all figuring out their own way. Eventually standards will come along, which will be great but it's going to take a little while.
It felt wrong not to ask about the headset that took everyone by surprise when it was announced in March this year as a partnership between Valve Corporation and mobile giant HTC. The Vive, which has been getting increasing amount of praise from users and devs alike for its high-quality design and immaculate presentation, has become one of the most highly sought after headsets –– making sure to snatch its share of the limelight away from supremos Sony and Oculus. However, if you're wanting to pick up The Assembly, you might want to cancel your donation to that obscure VR headset on Kickstarter that no-one has ever heard of.
Patrick: "I think the plan has always been to support every headset that we think is going to be a major player. We won't support every VR headset because there are lots of headsets out there on Kickstarter that are great, but may ever sell more than a hundred copies and we've got to try and focus our time. When we saw the Vive, we were just blown away and thought 'This is going to do really well' and so it was an obvious choice for us. Morpheus, Oculus and Vive are all kind of equal, they're all fantastic and I think all three headsets will do well. They're all top-tier and they're all great quality."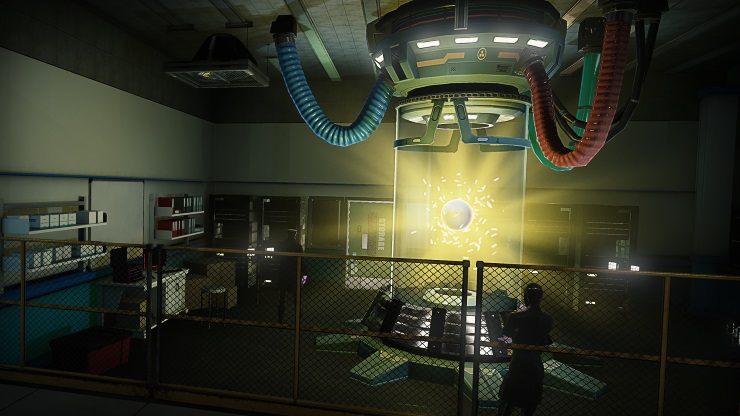 With a list of genres as long as Stretch Armstrong's sleeves to choose from, adventure almost seemed like a safe bet to me before playing. However, after experiencing VR, it became oh-so-clear why the genre would work where others would fail, but I still wanted to know what made them opt for adventure in the first place.
Patrick: "It was really by watching how people use VR for the first time. When we tried the headsets, we just wanted to stop and look around, explore. We wanted to look under tables, look in cupboards… it sounds stupid but I think VR is great for exploring: you feel like you've been teleported and you just want to look around. We felt that sprinting, running and fast movement didn't feel natural having tried that out, we feel people are comfortable moving at a sychronised speed that they move at in real life. The same with rotating, comfortable isn't spinning three times a second shooting fifteen bad guys in three seconds, so the adventure genre just made sense to us because it's all about exploring, narrative, dialogue: the kind of thing we think fits VR very well. We're massive fans of Telltale and the stuff those guys have been doing, and the adventure genre has been growing over the past few years thanks to those kind of games. I think the adventure genre will be even bigger on VR because it's such a perfect fit."
Jackie: "It's certainly so immersive: it's like you're there, experiencing the environment and it's there's something really enjoyable about just looking at stuff and that works well for adventure games. Think of all those point-and-click adventure games, it kind of feels like that just in three dimensions."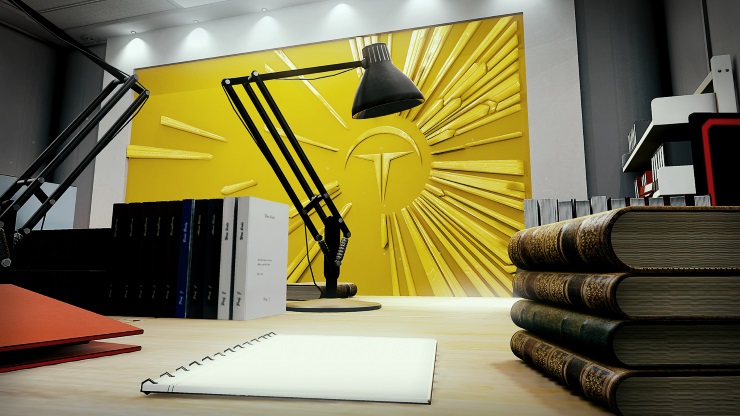 On release, its expected that early adopters of VR will be few and far between. Many gamers will take months, if not years to pick up a headset so I wanted to know if there was ever a notion to expand to the majority market with a non-VR port but I was quickly reassured where the company's focus currently lies.
Patrick: "It's something we'd definitely consider. We're focused on VR at the moment and that's the key area: we've got a lot of stuff in there that's been specifically designed for the platform. But, once we've got the VR versions down, if we feel like we can do a non-VR version that makes sense then yes, quite possibly because we think it's a really good adventure game with a good story that people will like, but the focus just now remains on VR."
nDreams plan to exhibit The Assembly this month in Los Angeles at E3, as well as Gamescom, Develop Brighton and EGX. The hope is that the game will be one of the launch titles for Sony's Project Morpheus and the HTC Vive which release at the end of this year, as well as launching with the Oculus Rift following its release in Q1 next year.
Many thanks to the team at nDreams for letting me demo The Assembly, and to Patrick and Jackie for their time. Until next time!