Christmas time, mistletoe and wine, children singing the cake is a lie. Yes, the one day of the year where we wear jogging bottoms, gorge on turkey, chocolate, and twiglets whilst playing with all our new gadgets and gizmos. If you're struggling with what to buy those people in your life who love their video games, then we've got you covered. Whether it's a game or a good pair of socks, we've found some of the coolest items on the internet you'll be able to buy for the Mario or Princess Peach in your life.
Overwatch Hoodie (£40.72 from Jinx)
There's no denying Overwatch is one of the best games of 2016, bringing an exciting FPS to the masses with colourful characters and fast-paced gameplay. These awesome hoodies come in both men and women's sizes, and are definitely going to keep you warm this winter.
Overwatch Wallet (£16.28 from Jinx)
If you're not looking to spend a lot, and are looking for more of a stocking filler, these Overwatch wallets look pretty damn awesome. They feature all of your favourite heroes in a beautifully hand-drawn art style.
Sonic the Hedgehog Socks (£9.99 from Amazon)
Let's be honest, receiving socks at Christmas is rubbish. Putting on that fake smile so you don't break granny's heart? Yes, we've all been there. Thankfully, these awesome Sonic the Hedgehog socks will be a most pleasant surprise. They're colourful, stylish, and are a great item to show off in front of your friends.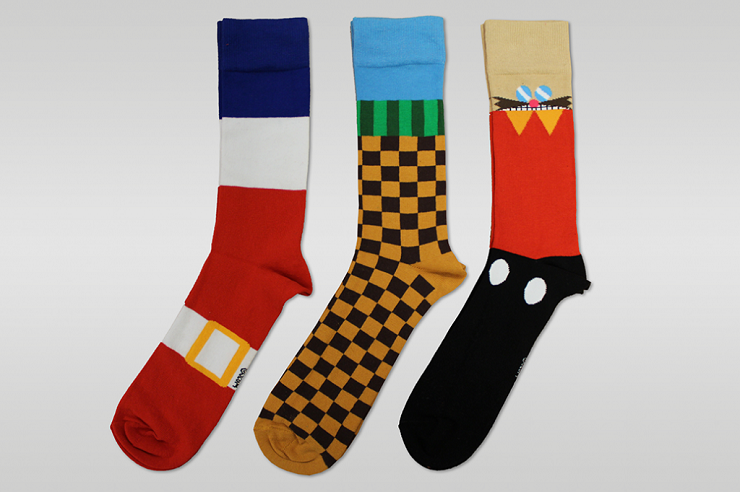 The Witcher 3 Geralt 6″ Vinyl Figure (£24.43 from Jinx)
There's no denying The Witcher 3 is one of the best open world games of our lifetimes, and that's why it was our game of the year for 2015. We were privileged to get a GOTY edition this year, featuring the two big DLC expansions and loads of other content. If you're a big fan of Geralt and his silver fox locks, this figure will sit beautifully on your desk. His weapons are detachable too, so if you're suffering from a bit of gamer's block, take him on an adventure of your own.
Call of Duty Infinite Warfare Legacy Edition (£62.59 from Amazon, PS4 version)
Before Infinite Warfare was released, many fans were sceptical and others were excited, but there's no denying the newest Call of Duty will be on most gamer's Christmas list. The difference with the legacy edition is the wonderful inclusion of Modern Warfare Remastered. Modern Warfare was the beginning of CoD's mass appeal, especially the multiplayer element of the game, and thanks to the technology of the current gen, the FPS classic has been fitted with bells and whistles, all ready for you to blow up your friends, and countless strangers after your Christmas dinner.
Skylanders Imaginators Starter Pack with Crash Bandicoot (Around £50 from Amazon)
One of the greatest video game phenomenons of the last 5 years has to be the Skylanders series. We've seen quite a few iterations since they burst onto the scene in 2011 with Spyro's Adventure. Skylanders Imaginators is the newest release in the series, and you can now create your very own Skylanders. Not only that, but the bandicoot, the myth, the legend, Crash Bandicoot is now playable, and this starter pack comes with your very own figure to play with in the toys-to-life adventure.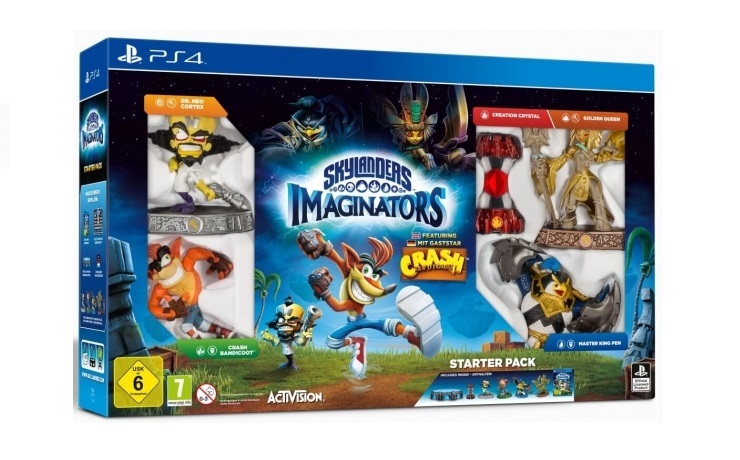 The Legend of Zelda 30th Anniversary Amiibos (from £10.99 on Amazon)
Amiibos sure are sexy, aren't they? For the 30th anniversary of Zelda, Nintendo has released a selection of Amiibos to celebrate this amazing franchise. There's the 8-bit Link, Ocarina Link, and the Windwaker versions of both Link and Zelda. Go on, go and look at how beautiful they are. GO ON!
Bloodborne Board Game (£49.68 from Amazon)
Next, we've got something a little pricier, but worth every penny. Whilst it may be well over a year old, Bloodborne is still a massive part of many gamer's hearts, and this board game is a way to extend the world of FromSoft's masterpiece. It focuses on the Chalice Dungeons side of the game, and has you competing with others to kill monsters and collect blood. Fun for all the fam…well, maybe not the entire family, just the bloodthirstly souls with a glutton for punishment.
Funko POP! Doom Space Marine Figure (£12.89 from Amazon)

One of the biggest surprises of 2016 has clearly been Bethesda's reboot of Doom. It's such a chaotic and intense nightmare where run and gun is literally the only thing you can do. Try and stop for a breather and you'll be ripped to pieces, which is quite a challenge in itself. As a lovely little surprise for someone, why not treat them to this awesome looking Funko POP! figure of the franchise's protagonist: the Space Marine.
Destiny: The Collection (£24.99 from Amazon, PS4 version)
Over the years, Destiny has had its ups and downs, but this collection is ridiculously good value, and it's a bloody good game too. Flawless gameplay makes the purchase of this collection a no brainer, giving you hours of fun to have with other guardians online, playing through the original game and all 4 expansions.
Pokemon Movie Collection – Limited Edition Steelbook Blu-ray (£22.99 from Amazon)
Pokemon has become huge again, there's no dismissing that. Despite Pokemon GO, Sun, Moon, and the TCG that's taken the world (and its children) by storm all over again this year, there's a chance most haven't seen where it all started with the first movies. This limited edition steelbook is a nice shiny silver, and contains the first three movies in the series. The three movie set includes the first movie, the 2000 movie, and Pokemon 3: The Movie. Great one to sit around the TV and enjoy with the kids, we think.
If this has got you in the mood for browsing some more gifts & gadgets for gamers, why not visit Gear Hungry and check out their latest reviews and buying guides for cool gadgets?