Ever Fantasised About Being a Rampaging Goat or Shooting Down Spaceships as a Giraffe? Check Out These Crazy Games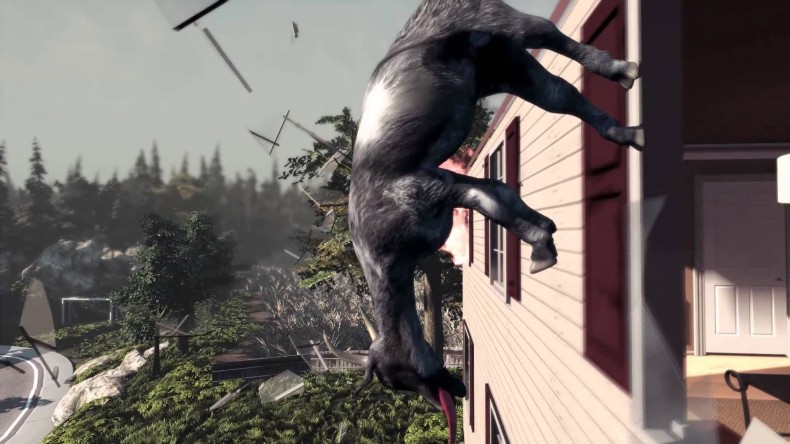 Source: Goat Simulator via Facebook
With the thousands of video games out there, virtually every conceivable bit of subject matter has been covered. There are fantasies like Skyrim, crime epics like Grand Theft Auto, racing games like Gran Turismo, football games like FIFA, the list goes on. Whatever you can think of, there has probably been a game made about it at some stage. And aside from the mainstream titles mentioned above, there have been some pretty crazy ideas transformed into games over the years. Here is a rundown of some of the weirdest titles ever created.
Goat Simulator
Some people fantasise about playing epic heroes like Geralt of Rivia in The Witcher, or Punished "Venom" Snake in Metal Gear Solid V. Others fantasise about being a goat. Because, who wouldn't want to be a goat? Goat Simulator allows all the goat dreamers to become their favourite farmyard animal and rampage around the city causing mayhem. Control your own personalised goat as you aim to land big jumps, annoy pedestrians, and pick up items with your tongue to swing at things.
There are a few reasons why this is one of the strangest games on the market. One is the fact that you are playing as a goat. Another is that this goat has the ability to do stunts and attack people. Oh well, whatever floats your goat.
Cash 'n' Curry
Slot games are the most popular casino offering by a long stretch, with 61% of all casino visitors choosing to spin the reels. For that reason, there are hundreds of themes to suit everybody's taste. From Davinci Diamonds at Slotozilla, to Stinkin' Rich at Mr Gamez, it's not hard to find something that tickles your fancy. Along with slots based on TV shows or films, there are also some pretty weird slot games online. 32Red has compiled a list of some of the wackiest out there, and Cash 'n' Curry stands out in particular. Instead of having traditional fruits on the reels, there are poppadums, chillies, limes, and pints of beer with an onion bhaji bonus round. Players who want to try out a twist on the classic slots can play at 32Red and receive a "Dish of the Day" bonus.
Space Giraffe
Space Giraffe came out in 2007 for the Xbox 360 and was a fixed shooter game similar to Atari's Tempest. In terms of the gameplay, the name says it all really. You control a giant giraffe that travels through space and also has the ability to shoot enemies. Unfortunately around the time of release it didn't receive a great reception, and was outsold 10-to-1 by a remake of Frogger. Perhaps if Llamasoft redeveloped it now and somehow incorporated a goat aspect the game would enjoy greater success.
Bible Adventures
It's supposedly the greatest story ever told, but surprisingly there haven't been that many bible-based games throughout history. Bible Adventures certainly didn't do the genre any favours, that's for sure. The game was created for the Nintendo Entertainment System in 1991, and featured three separate mini-games. In Noah's Ark players had to round up animals and food, sometimes by knocking the beasts out to get them on The Ark. In Baby Moses it was up to the player to save Moses from the Pharoah's decree that said all Hebrew children must be killed. And in David and Goliath players went on an epic journey as the young shepherd, initially herding sheep up to the ultimate encounter with the giant. This trio of adventures is generally considered to be one of the worst games of all time.
Grey's Anatomy: The Video Game
The hugely successful American drama that focused on young surgeons and doctors as they climbed the rungs of the medical ladder may not have struck many as the type of thing that would translate well into a videogame. But there is one. In Grey's Anatomy: The Videogame, players had to guide their character around the hospital, have conversations and make choices. There were also little side games where players had to perform surgery. This was quite an odd game, but could have been great fun to fans of the show.
The above titles should be a good start for those seeking some crazy gaming experiences, but there are loads more out there. Check out the likes of Farming simulator, Mister Mosquito, and Seaman and kiss reality goodbye.