2K just announced the cover superstar for WWE 2K18.
Seth Rollins joined WWE in 2010 and he's on the cover of WWE 2K18 that will release in October. Seth Rollins will also be a part of the marketing campaign worldwide where everyone can explore his identity. WWE 2K18 is also dropping support for PS3 and 360 which is great because we will hopefully see an improvement in visuals this year. Here's what Seth Rollins had to say:
"As the WWE 2K18 cover Superstar and franchise ambassador, it is my incredible honor and mission to ensure this game will truly BE LIKE NO ONE – a calling card perfect for everything I stand for – as it sets forth on its own unique path. Following in the footsteps of other WWE 2K cover Superstars – Dwayne "The Rock" Johnson, John Cena, Stone Cold Steve Austin and Brock Lesnar – I now carry the torch and proudly represent a new generation of WWE Superstars. I am the future, and the future can't be stopped."
WWE 2K18 will also be available in both Deluxe and Collector's Edition variants. The deluxe edition has the following:
1. WWE 2K18 with early access to the game and bonuses four days early
2. Season Pass content (detailed in Fall)
3. WWE 2K18 preorder bonus content
4. WWE 2K18 CE digital content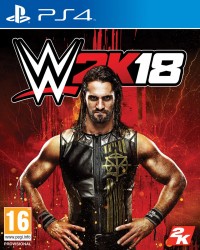 The Collector's Edition will be detailed this Summer.
WWE 2K18 releases on PlayStation 4 and Xbox One on October 17.