Fire Emblem Warriors is the second time Koei Tecmo has collaborated with Nintendo (well outside of that one Wii game appearance) for a full fledged Warriors game. Hyrule Warriors is pretty damn great on both Wii U and 3DS and when Fire Emblem Warriors was announced with the initial Nintendo Switch reveal, I was excited.
If you aren't familiar with Warriors or Musuo games, they are hack and slash action games that take place over large battlefields with hundreds or thousands of enemies. There are always missions and sub missions popping up making you remain on the move as you plow through swathes of enemies to reach an important character fight or to rescue someone. Warriors adds a lot of stuff I love from Fire Emblem to the fray and the end result so far has been fantastic.
When I first booted it up and played through the first two chapters, it reminded me of how great Dragon Quest Heroes II felt with various bits from the Dragon Quest universe represented brilliantly in a Warriors style game but still feeling true to the Dragon Quest name – unlike the original Dragon Quest Heroes. When you play a Fire Emblem game like Awakening or Fates, there are maps that, while played strategically with 1 on 1 or supported turn based combat, take place on large battlefields as part of a grander battle. When you get into a Warriors map and think of this as a part of the same thing only with hack and slash combat, the collaboration and the end result make perfect sense.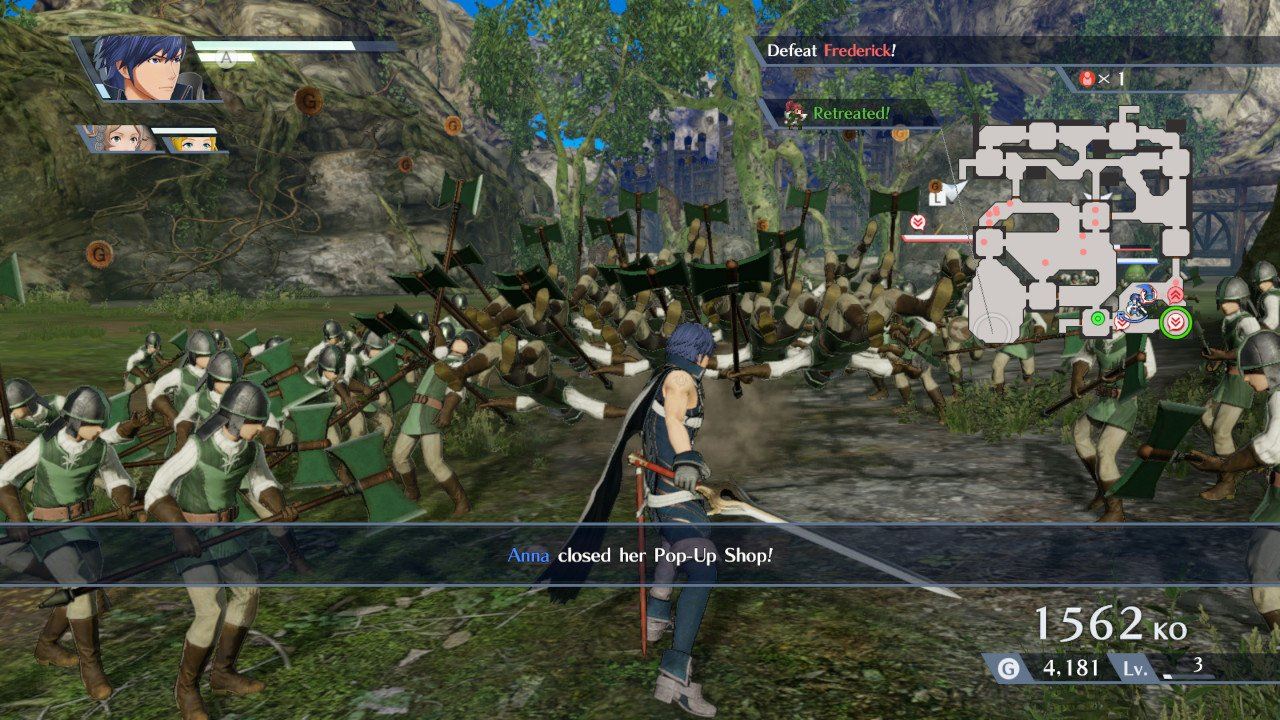 In the opening chapters, Awakening fans will find a lot to love. I haven't played Awakening again after beating it a few years ago and it was great to see the likes of Chrom, Lucina, and Cordelia with nice looking character models on a much higher resolution display than the 3DS. As is expected of a Warriors collaboration game, Fire Emblem Warriors feels equal part Warriors and equal parts Fire Emblem. There are support-like elements during combat, level-up screens (that you can thankfully turn off), the weapon triangle, and more here that will make Fire Emblem only fans feel right at home.
When it comes to actual game modes, my initial time with it has allowed me to play a few chapters in Story Mode and a few scenarios of History Mode. Story Mode has you selecting Rowan or Lianna from Aytolis who eventually run into Chrom and company. History Mode has let me play a few bits from the Dragon's Table where Grima is being resurrected. The missions here involve timed battles to arena rounds and even full blown Warriors levels.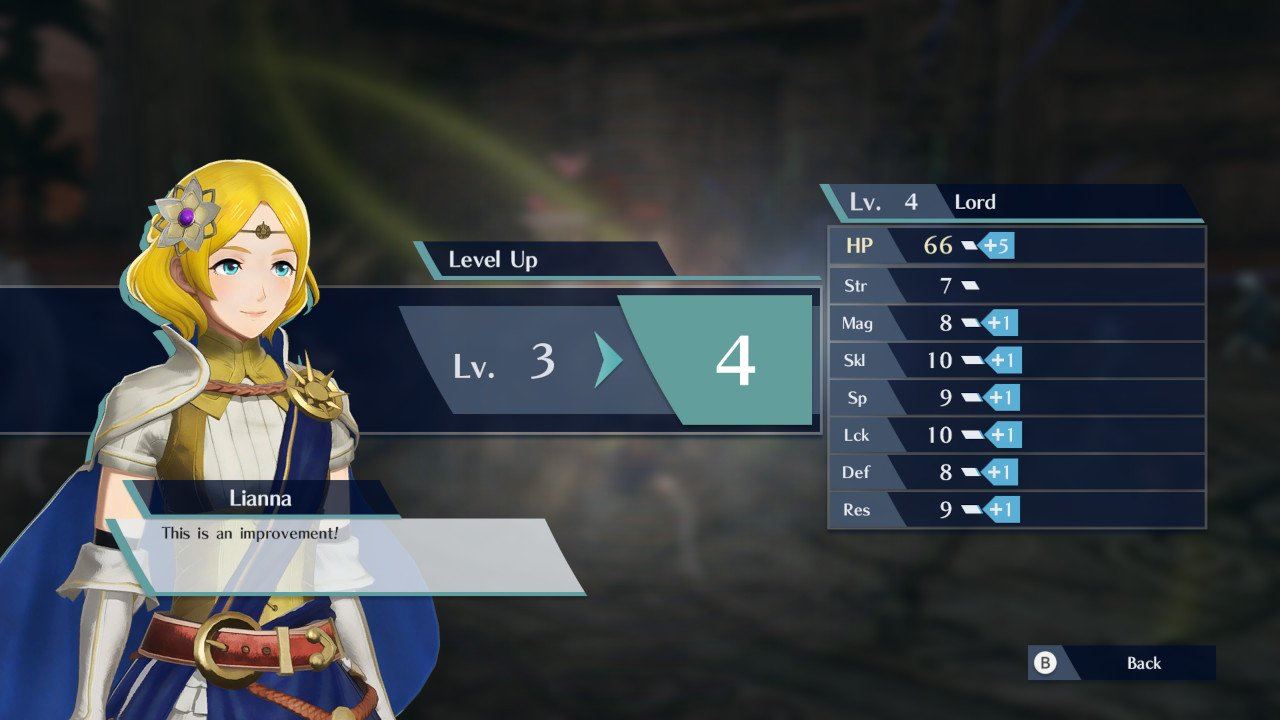 I played a few hours with all three visual modes here. The first one I tried was obviously the handheld mode. This has no frame rate or resolution options and plays at a target of 30fps with 720p, or in some cases it feels slightly lower. I eventually settled on this for my playthrough because it is great to have a handheld Warriors game of this calibre. The docked modes allow for 1080p with a 30fps target mode or 720p with a 60fps target. I'm glad Koei Tecmo has given users the option to choose either but found the mini map and character models a bit too low resolution in the 60fps mode. If you value image quality over frame rate, the 1080p, 30fps or "Quality Mode" in the game settings can be used. You can switch between both while docked at any time.
I own quite a few Amiibo and you can scan five different Amiibo per day to receive rewards. I tried Fire Emblem amiibo from the Smash series and was rewarded with Iron weapons while non Fire Emblem amiibo have given me gold so far. Inkling Girl was quite useful with the 5000 Gold reward on the first day when I started scanning amiibo.
The difficulty options from recent Fire Emblem games have also made their way here, and they allow you to pick easy, normal, or hard. The style options let you select between Casual (which allows allies to return for the next chapter if fallen in combat) and Classic, which has permadeath. Another nice accessibility nugget is you can customize the buttons as you please.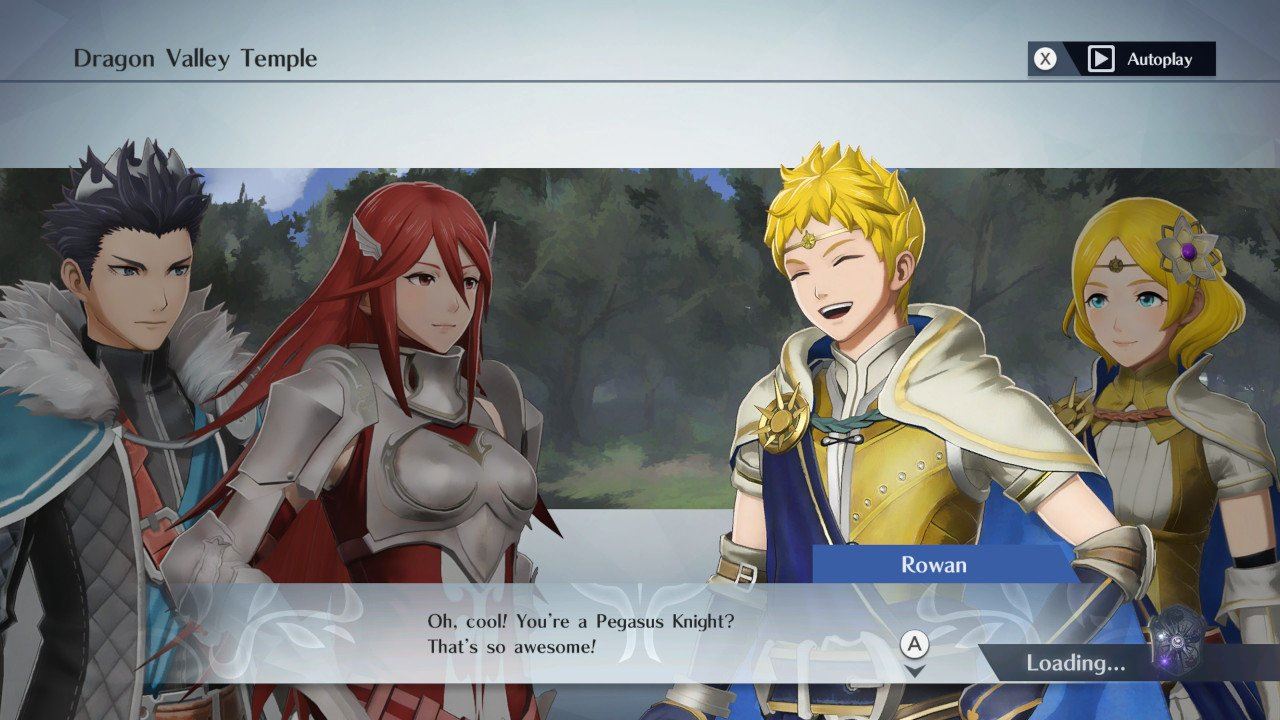 For those curious, the language settings only lets you change text language and not voice acting. English voice acting seems to be the only option as of now. I'm never a fan of voice actors being changed for particular characters I've grown used to and in some cases the replacements do a great job but still feel off because the voice just isn't what I'm used to. Voice acting is the most inconsistent part of my experience so far but it is good to see almost everything voiced, including the History Mode segments. It is funny being told randomly by a voice actor in the main menu that "The game is best enjoyed in short bursts" and "to take breaks when needed". Some characters sound great while others sound off not just in comparison to the original games but also in general. Thankfully, music more than makes up with some amazing remixes. If the Hyrule Warriors soundtrack was anything to go by, Fire Emblem Warriors' full score will be fantastic.
After spending a few hours with the full release on Nintendo Switch, I can't wait to get back and play more. If you aren't a fan of Fire Emblem Awakening or Fates, this might not be the game for you, because Warriors crossover releases are as much about fan service as they are fun gameplay. For fans of these games, Fire Emblem Warriors looks to be a treat.