There's a lot of new items making their way to GTA Online that are likely to tickle your fancy. Strap in and get ready to read all about what can expect to appear around Los Santos.
First up is the newest vehicle in the form of the Ocelot Locust sports car. It's an open top seater with no pesky doore or windows so perfect for a bank heist. Even if it is easily indetifiable. If the Ocelot Locust is up your street then you can find it at Legendary Motorsport.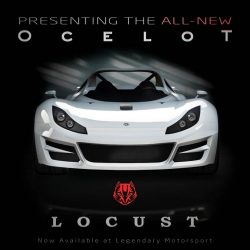 If you really want to show your commitment to the Ocelot Locust, you'll be pleased to know that everyone is getting a free Ocelot Tee. There'll be no question of your brand loyalty now.
Next up is all about the Gunrunning Sell Missions. Through to September 4 you'll be able to get double cash as well as Gunrunning Research going at double the speed.
Contraband will net you some extra cash as well. Running crates from your Hangar or Special Cargo Warehouse will get you double cash on all Special and Smuggler's Cargo sales.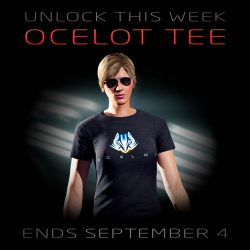 If you're looking for more ways to earn double cash you'll want to head to the Bunker Series blip you'll see on the map. The Bunker Series now inlcudes fan favourties like Juggernaut, Every Bullet Counts and more.
There's some more free stuff if you decide to play GTA Online from now up to September 4. Playing up till then will get you the Sessanta Nove Monogram and Sessanta Nove Multi-colour liveries for the HVY Barrage, HVY APC and the Pegassi Oppresor.
There's also a couple of things heading to The Diamond Casino and Resort. The Lucky Wheel's top prize this week will be the Cheval Taipan Supercar while the Casino Store will see the return of some fan favourite items. The Store now has clothing and accessories like the Gold Roulette Kronos Tempo timepiece along with classic works of art for your penthouse.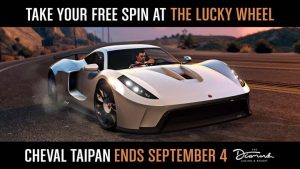 That's not all though as Maze Bank Foreclosures are offering a mass of discounts on various things. This week will see 40% discounts off of:
Bunkers
Bunker Renovations & Addons
Hangars
Hangar Workshop
Hangar Renovations & Addons
V-65 Molotok (Plane)
Mammoth Thruster (Military)
HVY Barrage (Military)
HVY APC (Military)
Overflod Entity XXR (Super)
Coil Cyclone (Super)
Ocelot Lynx (Sports)
And finally, for Twitch Prime members that linked their Twitch and Rockstar Games Social Club accounts before August 26, can expect a 75% discount on both the Akula and the HVY Menacer. Those players can also expect an additional 10% off of the discounts listed above.