Red Dead Redemption 2 is set to release on PC on November 5 but you can pre-purchase it now via the Rockstar Games Launcher. Not only that there's some bonuses to tempt you into pre-purchasing. You might also want to check out the PC specs at the bottom of this article just in case.
From now up until October 22 if you order via the games launcher you can receive special bonuses and two free titles from the following:
GTA III
Grand Theft Auto: Vice City
Grand Theft Auto: San Andreas
Bully: Scholarship Edition
L.A. Noire: The Complete Edition

Max Payne 3: The Complete Edition
As for those bonuses that were mentioned. All pre-purchases made on the games launcher includes free upgrades to the premium editions of RDR2. The Special and Ultimate editions are also both discounted by $20. The bonuses included with pre-purchases are:
Outlaw Survival Kit for Story Mode
War Horse for Story Mode
Le Tresor des Mortes Treasure Map for Story Mode
Cash Bonus for Story Mode

50 Gold Bars for Red Dead Online
The PC version of RDR2 also comes with a load of technical and graphical upgrades. You can expect to see increased draw distances, higher quality global illumination and ambient occlusion for improved day and night lighting; higher quality snow trails, improved reflections and deeper, higher resolution shadows at all distances; tessellated tree textures and improved grass and fur textures.
The PC version will also offer HDR support and the ability to run on high-end display setups meaning you can play RDR2 in 4K and beyond. Multi-monitor configurations, widescreen configurations and faster frame frates are just a taste of some other enhancements you can expect to see on PC.
It's not just technical and graphical enhancements that are making their way to RDR2. Some story updates will also appear which include:
3 New Bounty Hunter Missions:
Herman Zizendorf who has deciding to nab tools froom tradesmaen. He can e found wandering around Balckwater.
Ex-Confederate Cavalry Officer Camille de Millemont is wanted dead or alive by Catfish Jacksons. Don't expect him to be alone though.
Bart Cavanaugh and his gang are camping out in Big Valley. You can attempt to take him out, or capture him, stealthily if you don't fancy taking on his gang as well.
2 New Gang Hideouts:
You can now find the Del Lobos gang at Gaptooth Breach and Solomon's Folly.
2 New Treasure Maps:
Treasures can be found across the new Landmarks of Riches and The Elemental Trail maps for gold bars and other rewards.
A New Mission "To The Ends of The Earth" that will have you collecting requested herbs for a range of rewards
There's also new weapons available:
M1899 Pistol – all-new Semi-automatic handgun with clip loaded ammunition
Evans Repeater – high capacity repeater (previously available in Red Dead Online only)
High Roller Revolver – ornate double-action revolver (previously available in Red Dead Online only)
Le Mat Revolver – powerful revolver with the ability to shoot shotgun shells (previously available in Red Dead Online only)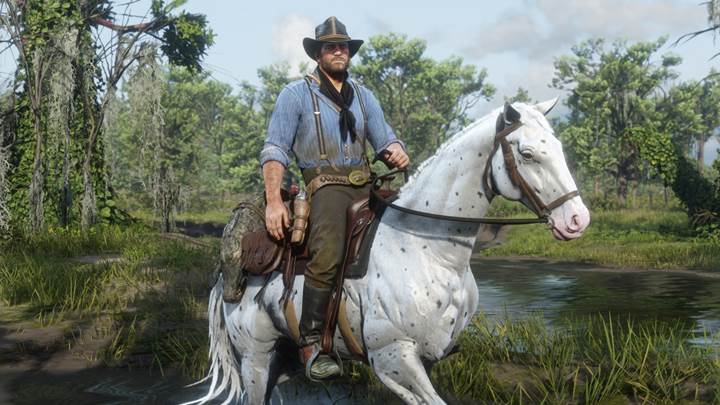 It doesn't stop with the weapons. You might also come across the following horses:
Warped Brindle Arabian – a fast and agile mount
Few Spot Appaloosa – perfect for any cross-country journeys
Perlino Andalusian – the best companion for hunting (previously available in Red Dead Online only)
Red Chestnut Arabian – a fleet-footed beast with a distinctive coat (previously available in Red Dead Online only)
Plus 3 new wild horse variations – keep an eye out for wild herds featuring the Buttermilk Buckskin, Kentucky Saddler, Liver Chestnut Morgan and Gold Palomino Tennessee Walker
Finally, onto the PC specs. Here are the minimum and recommended specs for RDR2:
Minimum Specifications:
OS:  Windows 7 – Service Pack 1 (6.1.7601)
Processor:  Intel® Core™ i5-2500K / AMD FX-6300
Memory:  8GB
Graphics Card:  Nvidia GeForce GTX 770 2GB / AMD Radeon R9 280 3GB
HDD Space:  150GB
Sound Card:  DirectX compatible
Recommended Specifications:
OS:  Windows 10 – April 2018 Update (v1803)
Processor:  Intel® Core™ i7-4770K / AMD Ryzen 5 1500X
Memory:  12GB
Graphics Card:  Nvidia GeForce GTX 1060 6GB / AMD Radeon RX 480 4GB
HDD Space:  150GB
Sound Card:  DirectX compatible