Sega and Creative Assembly have released a video showing off the New York map for Hyenas, and detailed more opportunities to try the game out.
The new map is going to be available to alpha PC players from January 20th (this Friday) at 5pm UK time (12pm EST), and you can see it in action, below:
The 1.11 alpha ends on Monday 23rd January 2023 at 9am UK time, so if you do want to get in, you'll need to sign up to be able to play over the weekend.
The big centrepiece of the map is none other than the iconic Statue of Liberty. Found in its new HYENAS home of Liberty Hall, a cavernous area that also serves as the main thoroughfare for the Plundership, it's a stunning backdrop that offers tactical cover and strategic opportunities for crews fighting around the famous landmark.

Around the edges of the map are four large cargo modules, where CLOUT's gig workers process the salvaged Merch to make it ready for retail. These allow players to use their ZERO-G skills to best suit their personal combat tactics. All cargo modules have their own unique landmark offering different cover and combat opportunities.
"The Hyenas Alpha community are a bunch of eclectic misfits, just like the Hyenas themselves," said Kirk Squires, Hyenas Senior Community Manager. ​"Hailing from all kinds of gaming and social backgrounds you won't find the FPS stereotypes here. We have an environment that's welcoming, friendly, and filled with people eager to show newbies the ins and outs of zero-g heisting. It's awesome to see the community grow as HYENAS smashes into the FPS landscape, and we're excited to give away more goodies, run more events, and make more memes with you all."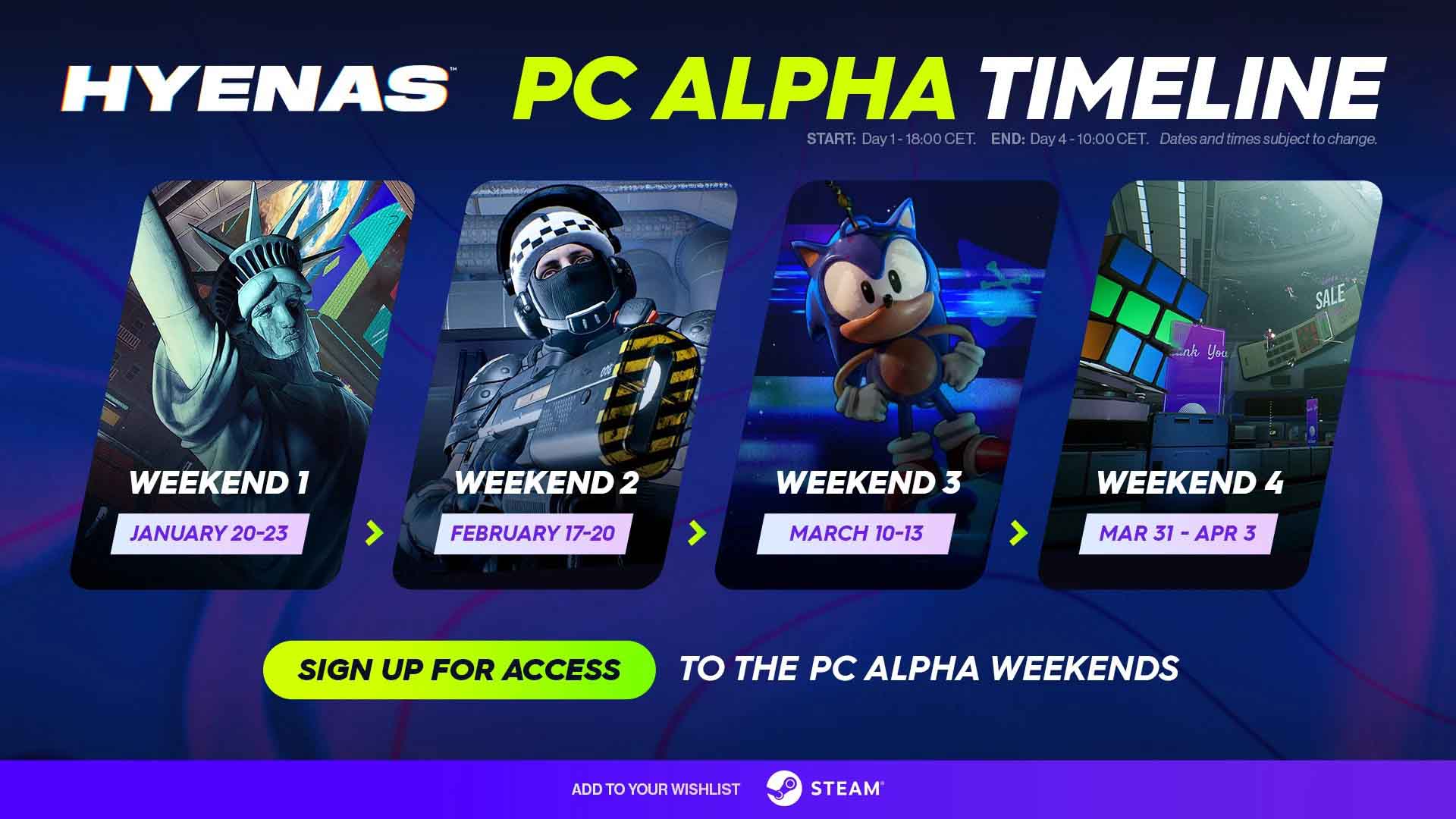 This isn't the first alpha weekend, and as you can see from the image above, Creative Assembly is planning for more to come. There will be another alpha weekend for PC players on February 17th-20th, with a third on March 10-13, and a fourth alpha weekend running from March 31st to April 3rd.
We're not quite sure why there's a picture of Sonic for the third weekend, but given that the first has New York relevancy, perhaps there's a crossover of some kind within the game.