Bloober Team has unveiled a host of goodies for Layers of Fear, including news of a demo, the opening cinematic, and the system requirements.
There will be a demo on Steam from May 15th (8am PT) that is only available until May 22nd (3pm PT). It's a "short demo will allow players to jump into the first few minutes of the game and experience the game's opening cinematic video, which introduces the story of the Writer, the game's final protagonist". On top of that, Bloober Team will live streaming the game starting next week.
Damian Kocurek, Creative Director of Anshar Studios will be part of the stream, and will be providing commentary of the demo, along with Laura Bernaś, PR Manager at Bloober Team. This is set to go live on the Steam page around 8:30am PT on Monday, May 15th, as well.
We've also got the full cinematic intro, which you can check out below:
While Layers of Fear is coming to consoles as well, the PC version is going to look pretty good, we'd assume, so here's the system requirements in handy image form, with the minimum, recommended, recommended for Ray Tracing, and recommended for Ray Tracing with 4K.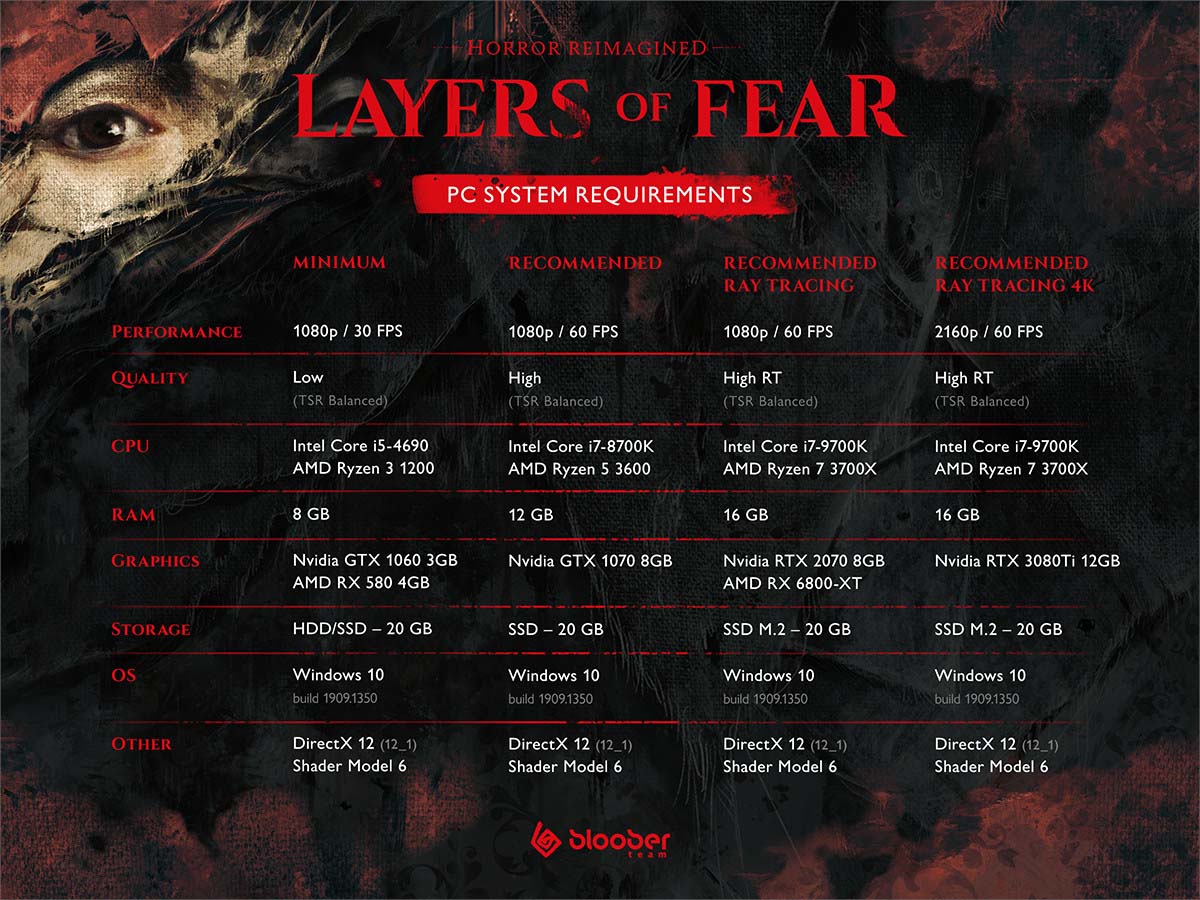 Let's have a look at the feature list, from the press release:
The Ultimate Layers of Fear Experience – The series's crowning work casts an overarching narrative over the entire franchise.
Horror Reimagined – Everything in the Layers of Fear series melds together into a single experience, including all DLCs, so players can find all the answers they seek.
Shocking New Looks – Enhanced with Unreal Engine 5's improved technology. This version offers a more immersive horror experience with the addition of Ray Tracing, HDR, 4K resolution, and the Lumen system.
Psychological Horror – A grim but gripping first-person psychedelic horror game focused on tense exploration, puzzle-solving, and immersive storytelling. Discover what lies in the depths of the human psyche with this mature, cathartic game.
New tricks – New brand-new core mechanics that will be introduced to Layers of Fear and its sequel, as well as additional features, so all the chapters and stories will blend seamlessly
Horror Through the Many Lenses of Art – Explore the depths of obsession with three different stories of craft-obsessed protagonists (The Painter, The Actor and The Writer) which are interwoven to create a truly immersive experience and gripping storyline
Classical, Ominous Soundtrack – Hauntingly beautiful soundtrack composed by the highly-acclaimed musician Arek Reikowski. He has composed a hypnotic score that adds an extra layer of tension to the game and will leave you on the edge of your seat
Layers of Fear is coming in June 2023 to PC and consoles.