Release Date
September 5, 2019
Switch Re:port covers the Nintendo Switch port/version of a game newly released on the platform. Originally released on PS4, Xbox One, and PC and scored 8.5/10 on PS4.
When Divinity: Original Sin 2 released on PC a while ago, it had almost unanimous praise and acclaim. Having learned my lesson with the earlier game to not buy it on PC unless I wanted to play it immediately, I decided to hold off for a console version. When Divinity: Original Sin 2 – Definitive Edition released on PS4 and Xbox One, I knew I had to get it. Both versions were great conversions and just like the first game's port, Larian Studios proved that they know how to bring the genre to consoles well. With many CRPGs making their way to the PS4 and Xbox One, only Divinity: Original Sin Enhanced Edition transitioned well to consoles, not only for interface but also for controls and performance. For Divinity: Original Sin 2 – Definitive Edition, Blitworks and Larian Studios both worked to bring the massive CRPG to Nintendo's hybrid system and the end result is shocking in a good way.
Unlike most third party ports to the system that just scale back visuals and put no effort into handheld interface and text sizes, Divinity: Original Sin 2 – Definitive Edition does things differently. Visuals are scaled back to make it run well, but the interface in handheld mode is great. Everything is very readable on the Switch's screen. In terms of performance, there are drops in combat, but movement feels great, including panning the camera and even zooming in and out. It is pretty surprising that Divinity: Original Sin 2 – Definitive Edition on Switch feels better than all the non-Larian CRPG ports on Xbox One X because only Larian Studios' ports so far have transitioned brilliantly to console.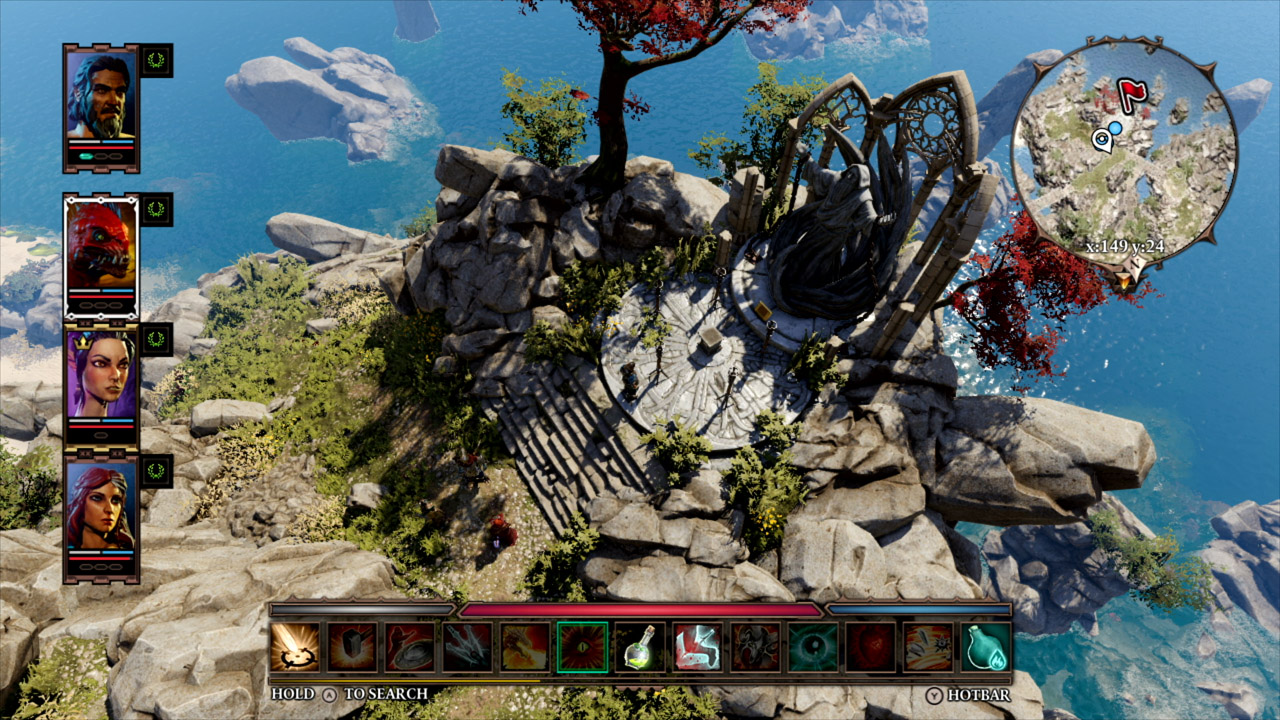 The huge feature of this port that will ensure many double dips is Steam cross save. Cross progression is something I hope more games do across platforms. You can do this by signing into your Steam account when you boot up the game for the first time or from the in-game settings. Hopefully something like this can come to Xbox One to allow save transfer between Switch and Xbox in the future since Microsoft seems open with cross progression.
My only complaint with this port barring the performance issues is that there is no touchscreen support at all. It would've been great to be able to pan around or even zoom in and out with touch. Hopefully Blitworks and Larian Studios can add this later.
Overall, Divinity: Original Sin 2 – Definitive Edition is a triumph of a port on Switch. It needs some polish for the frame rate in certain situations, but this port on Switch is leagues above the stuttered performance I've encountered in Pillars of Eternity on both PS4 and Xbox One. Blitworks remain the Bluepoint Games of handheld ports. Divinity: Original Sin 2 – Definitive Edition just proves how to port a massive game to the Switch.
Positives
Content complete port of a massive game
Runs great for the most part
Interface scales well
Supports local wireless play
Negatives
Frame drops during battles
No touchscreen support
Blitworks has done a fantastic job porting Divinity: Original Sin 2 to Switch, running great for the most part,including local wireless and an interface that has been scaled well.