Release Date
August 30, 2018
The Switch is no stranger to ports of indie games from other consoles. In fact, most of what I cover in the Re:Port Reviews are indie games that have been released elsewhere before hitting the Switch. What's interesting to me, is seeing how games that exist on mobile and PC in addition to console fair when released on the Switch. The Switch allows for traditional controls, motion controls, touch controls, pointer controls, portable gameplay, and more and it is always good to see developers make use of as much as they can here to give the late ports something unique. Mini Metro from Dinosaur Polo Club originally released on PC before seeing a release on iOS and Android. I had heard a lot about it back when it hit PC, but only bothered with it on iOS. The iOS version of Mini Metro is fantastic and I keep going back to it over a year since it hit the platform.
Mini Metro is a game about managing a subway network as well as you can. Your aim is to be as efficient as possible and make sure people, (the destinations are represented by shapes), can get to their destination quickly. The onboarding tutorial is a very nice interactive experience that will make sure you understand the game. While you can use the controller or Joy-Cons, this is definitely best played with touch controls. If you enjoy the pointer controls some games have, they are very well implemented here. Thankfully, the Switch version allows you to play however you want. As time goes by, you are rewarded with new carriages, new trains, new tunnels, and more upgrades and additions.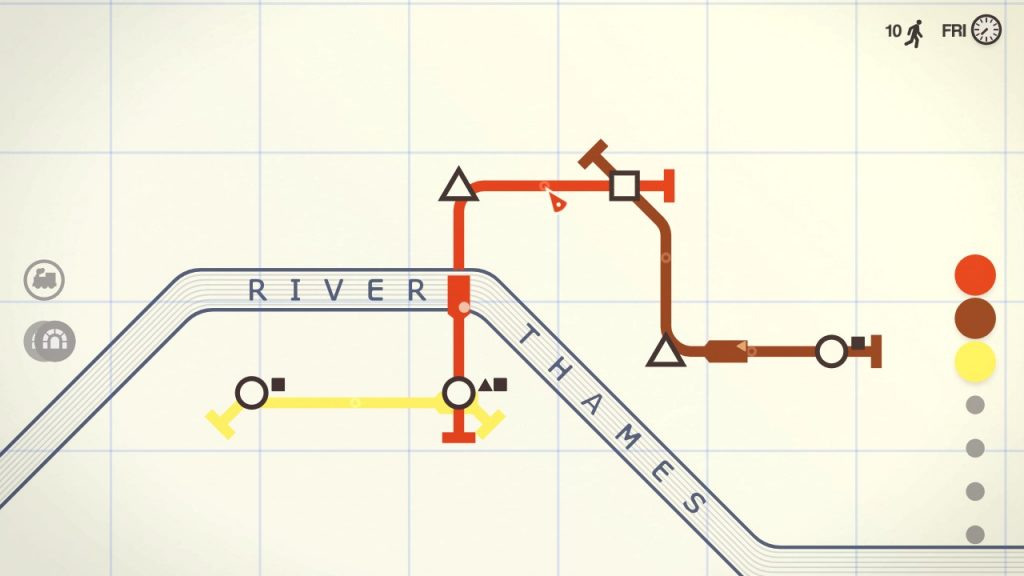 Normal mode is basically how you should experience Mini Metro initially. If a station gets too crowded, the game ends. Endless mode is about being as efficient as you can without the fail mechanic of Normal Mode. There is also a third super hard mode that does not let you redo line placements for tracks. I'd only recommend bothering with that if you have no trouble with any of the various map locations for the Normal Mode. You also unlock more cities with different geographic layouts by clearing certain requirements in previous locations.
I'm a big fan of minimal aesthetics. Mini Metro takes the best of modern signage and combines it with slick animation to deliver a visual experience that is both smooth and memorable. The use of subtle sound effects coupled with Disasterepeace's score are only icing on the cake. There is a night mode option as well as one for colourblind players which all manage retaining the gorgeous and minimal aesthetic while being functional.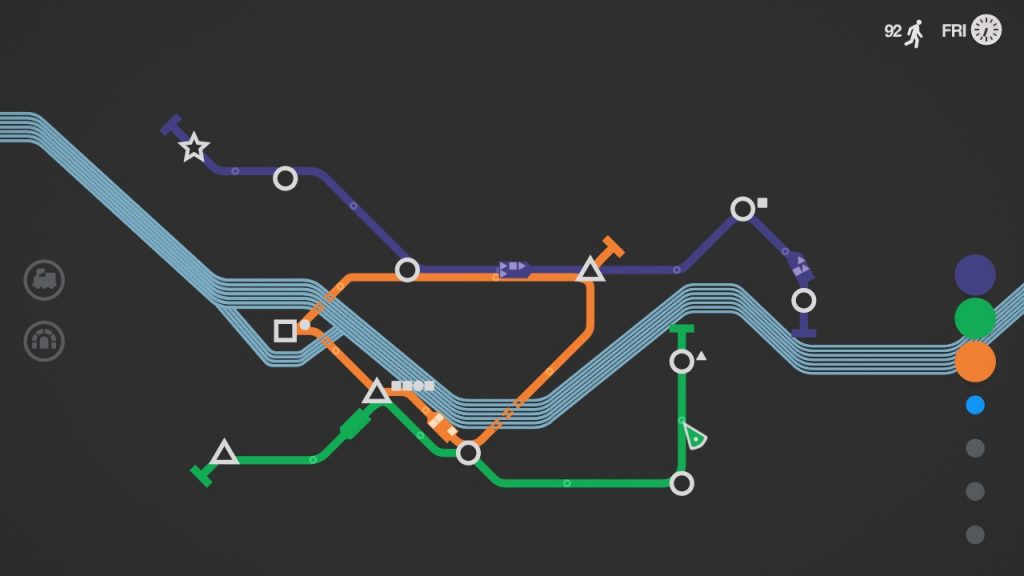 The only downside to this version is one performance issue which affects the game during some menu transitions. The gameplay has been great and smooth in my testing but while switching between menus, things stutter a bit. That's the only negative for this port and this release in general.
Mini Metro on the Switch is nearly the definitive version of the game. It offers a good traditional controller option and has full touch support bringing in the best of the mobile version. If the performance issues during some menu transitions are fixed, this will be the best version of the game. If you've been aching for a good addictive strategy puzzle experience, Mini Metro is what you need to get right now.
Positives
Fantastic puzzle experience
Elegant visuals with multiple visual options
Almost endless content that never gets old
Negatives
Minor performance issues
Mini Metro on the Switch is a fantastic and zen like strategy puzzle experience with elegant visuals and addictive gameplay.