Release Date
August 19, 2015.
Pure Hold'em is the first poker game to make its way on to the Playstation 4 and it probably won't be the last; however, based on the sheer realism and fun of my experience playing, it will take some beating to make a better poker simulation than this. VooFoo Studios have carried on the tradition of making the pub games we all love so much into realistic simulations we can play in our own home; Pure Chess and Pure Pool were spot on in terms of realism, but Pure Hold'em is about as close to playing the real thing as you're going to get without actually shuffling and bluffing in the flesh.
Pure Hold'em doesn't assume that everybody who buys a copy of the game already knows how to play Texas Hold'em. The tutorials are plainly set out and easy to follow, with all the rules of how to play the cards and the chips structured in a clear and precise way. You are allowed to revisit this information whenever you like in the 'Extras' tab, along with a basic overview of the different segments of a game, including the flop, the turn and the showdown. For those who get bogged down with some of the lingo, there is also a glossary of all the words those in the know tend to use (so you're not completely lost when someone decides to fold in the preflop before going all in after the river is dealt prior to the showdown…or something like that!).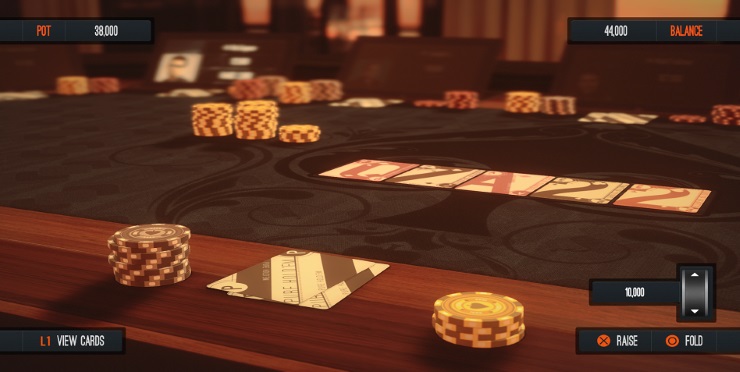 Dependant on your skill level and how much poker you've played, there are copious amounts of games and tournaments to keep you occupied. The variety in online competition is where the game truly shines. There is the "Open Table" option, which lets you head straight into the action on one of 6 tables available, based on your money and skill level. For example, if you're rolling in the money and are feeling pretty confident, you can play for big cash payouts at the Masters Table, or if you're relatively new and are just looking for a bit of casual gambling, you can sit at the Jokers' Table for some light-hearted, stress-free fun.
There are also online tournaments based at these tables too; however, as the game is relatively new, you can sit around waiting for others to join for quite some time. I didn't get a chance to participate in the tournaments, yet this is something that will change as more players begin to play the game. If online gaming isn't for you, VooFoo Studios have also given the option of participating in the same experience off-line, introducing various NPCs with their own attributes and personalities, accompanied by some comical stock image mugshots.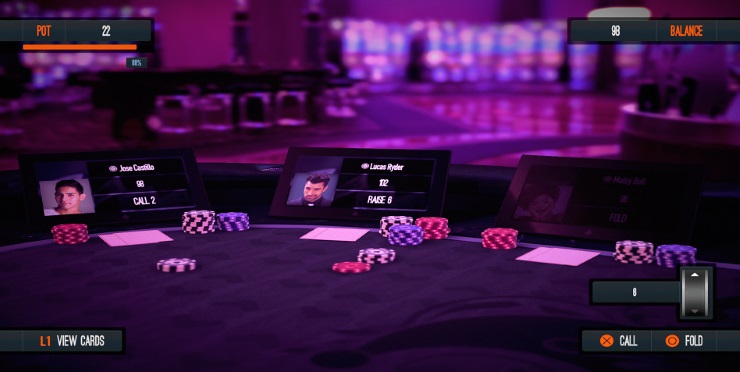 I spent most of my time playing the open tables, cautiously betting against other gamblers around the world, treating my pot like it was real. The chips I betted away were legitimate currency in my mind and the more I lost or gained, the more authentic the experience was. Unfortunately, other players weren't so hooked on the idea of pragmatism and squandered plenty of their chips without thinking twice about the consequences.
Herein lies my issue with gambling with "fake" money, and us never truly having a realistic poker simulation. Yes, it is the most realistic poker experience I've ever had whilst gaming, but regardless of the effort gone into making it, if you don't play along with the notion of the chips in your possession being tangible, then you'll never be able to experience true simulation. That is why my only real grumble with the game is that there are those whodon't really follow these unwritten rules and occasionally you'll find them treating the experience with a superfluous disrespect.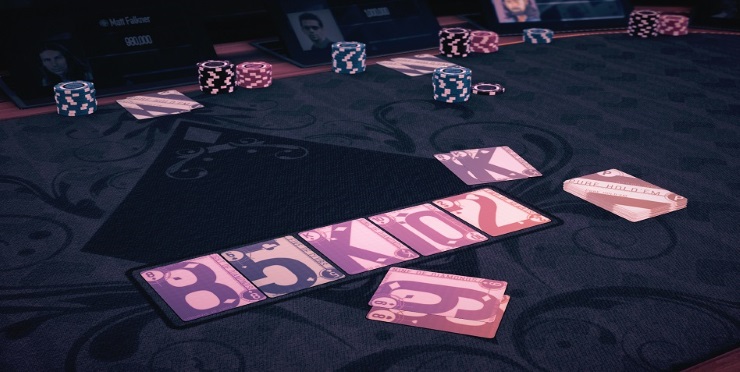 If you want to make the game that little bit more personal, you can. There is heaps of customisation; want a different pattern on your deck, or would you prefer to play your games on a red, felted table adorned with a flowery pattern? Go ahead! You have the choice to customise chip sets, card decks, cloth colours and patterns, making sure your game is as personal as it can be. It is also worth noting that the style of music while you're playing can be changed by a swift press of the R3 button. Big Band, Jazz, Blues and more are all at your disposal, so if you are anything like me, you want some smooth, bluesy riffs flowing through the speakers to make you feel as cool as a cucumber. It really helps to feel comfortable in your game. You can end up playing for hours, and if the look and feel of the room isn't right, you might as well flush those hard earned chips down the toilet; trust me, make the most of your personalisation.
Pure Hold'em is a well-designed poker simulation that can't be faulted in terms of practicality and design. It makes you feel like you're there at the table, under the smoky dimness of a poorly-lit room, gambling for chips with a glass of whisky in your hand.
Review code provided by publisher.
Positives
Plenty of options.
Nicely presented and easily accessible.
The music is surprisingly good.
Negatives
Doesn't quite feel "real".
If you're new to poker or have been playing for years, Pure Hold'em is about as close to playing for real as you're going to get - there isn't a more faithful experience on the market.