Release Date
24th October 2014
In the ten years since its first appearance, many challengers have attempted to usurp Singstar as the unprecedented King of Karaoke for Sony consoles, but without success. London Studios all-round class has held firm, and the catalogue of additional discs and downloadable content has continued to expand to include thousands of songs.
This new instalment has the moniker "Ultimate Party", which would suggest that this dual PS3/4 release is the definitive package to date, complete with bumper new features and content. After a bit of time spent with this tenth anniversary celebration, I was scratching my head as to why Singstar seems to have taken more steps backwards than it has forwards.
Singstar has never really been about the single player experience, and one could also argue that it isn't really a game at all, in the conventional sense, even if it does allow you to score points and grades your vocal abilities. London Studios' time-honoured formula has always been about giving us a selection of fun multiplayer party game modes, such as Pass the Mic and the ability to sing duets. Bafflingly all of these have been removed from the package, leaving just a bare-bones one or two player option to toy with. Looking at the promotional material for the game, and indeed the ubiquitous accompanying Facebook page which is constantly shoved in our faces, Ultimate Party is portrayed as an activity to be enjoyed by groups of people, with happy clappy smiling partay scenarios plastered all over the place. In reality the modes that made these kind of shenanigans a reality no longer exist. It made me want to reach for my Singstar Motown and party like it was 2009.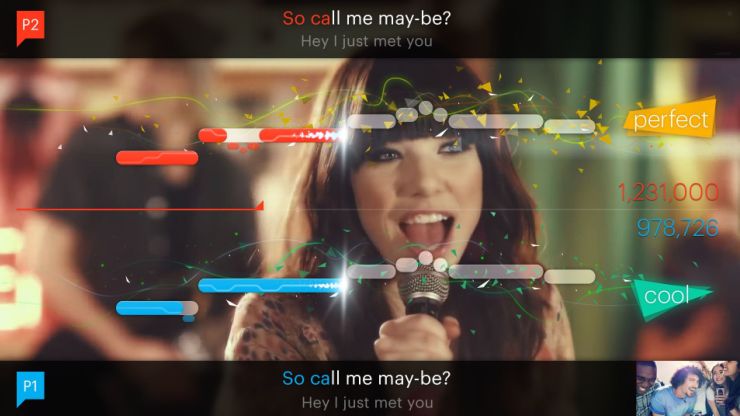 Little things that made a genuine difference have also been eroded from the classic Singstar experience: you can no longer input player names; there are zero customisation options to tinker around with song length. And for those wishing to genuinely test their singing mettle, there are no alternate difficulty options available.
The selection of 30 songs is also far from "ultimate" in terms of its scope, with the vast majority of the tracks being very recent pop hits. Fine if you're prepubescent, dig Frozen and have a crush on Olly Murs, but oldies like myself cannot be placated by Lionel Richie's (admittedly awesome) "Hello" as the sole male vocal concession to the olden days. The other vaguely ancient selection is the legendary duet between the Pet Shop Boys and Dusty Springfield, the rather aptly-named "What Have I Done To Deserve This?"
As reliable as Singstar has always been, the lack of any real vocal amplification always made it inferior to a pub karaoke experience in front of the old Sunfly discs. The same has to be said here. Sony have promised better vocal recognition but there is no noticeable improvement, and even a touch of echo-y lag which gives the whole experience a cheap and nasty feel. The option to use your smartphone as a microphone using an app for iOS and Android devices is a nice one, and actually worked well when tested out on a Samsung Galaxy S4 Mini. This is a boon for anyone who doesn't already own their own set of Singstar microphones or other compatible peripheral, but it has to be pointed out that waving your cellphone around under your nose doesn't come close to the feel of gripping a real microphone.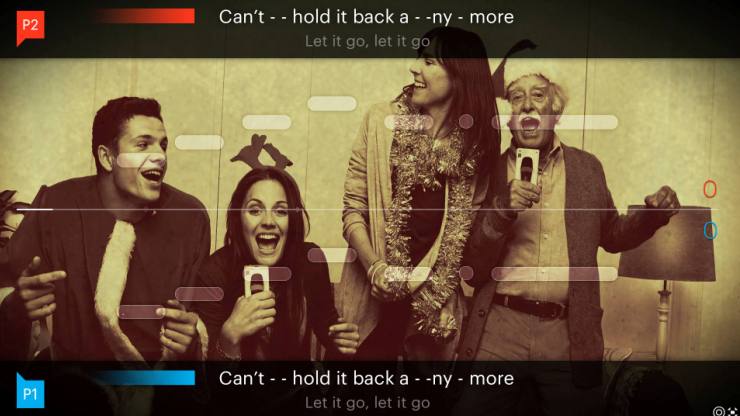 It seems odd that a game marketed to the masses as a party experience feels so flat and bereft of life. The new songs on the disc can be purchased from the Singstore individually should they tickle your fancy, and the handy app can be downloaded and used with your existing PS3 song library without purchasing the game disc.
There is no reason to recommend this to anyone as a standalone PS3 purchase, given that the interface and lack of modes mean that Ultimate Party is actually inferior to the existing versions of the game. It can no longer be argued that it still plays its part as a fundamentally sound virtual karaoke machine – given that the lag interferes with the quality of the aural experience. Very disappointing.
Review code provided by publisher.
Positives
Classy menus as always
Mobile app functions well
Negatives
Complete lack of game modes
Vocal lag
Poor song selection
Singstar Ultimate Party completely fails to move with the times, with an overall karaoke package that is inferior to the 2004 blueprint.