With more Switch points being released, Chris White and Mikhail Madnani share there thoughts on 5 of them for the Switch Review Roundup #2.
Vostok Inc.
Originally released on PS4, Xbox One, and PC on June 26, 2017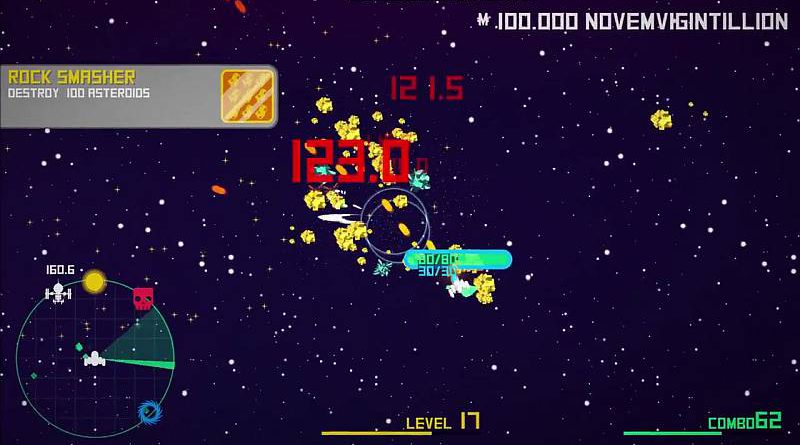 Vostok Inc. is a busy game, made up of you grinding for hours on end, trying to make as much money as humanly possible. It's a twin-stick shooter – kind of – that has you blasting rocks and mining gold as a space capitalist called Jimmy, who is a very greedy boy. You'll visit a total of six solar systems, and a whole heap of planets in order to build your empire, but there are those who don't want you to succeed, so not only are you using your blasters to fire at meteors to harvest them, you'll also have to blow up any other ships that cross your path.
There're also boss fights at the end of each system, so make sure you upgrade your ship with all the XP and dollar you get. You'll eventually gain access to loads of weapon types too, with ship upgrades to boot and not to mention the bucket load of objectives for those that want to get stuck into a game that'll have you by the short and curlies in no time. Vostok Inc. is pretty good, but the grind does become frustrating; however, it's easier to put in short periods of time on the go, eventually leading you to amass that huge galactic empire, so the Switch is a very suitable host.
6/10
Tiny Troopers: Joint Ops XL
Originally released on PS4, PS3, PS Vita, and Xbox One on November 18, 2014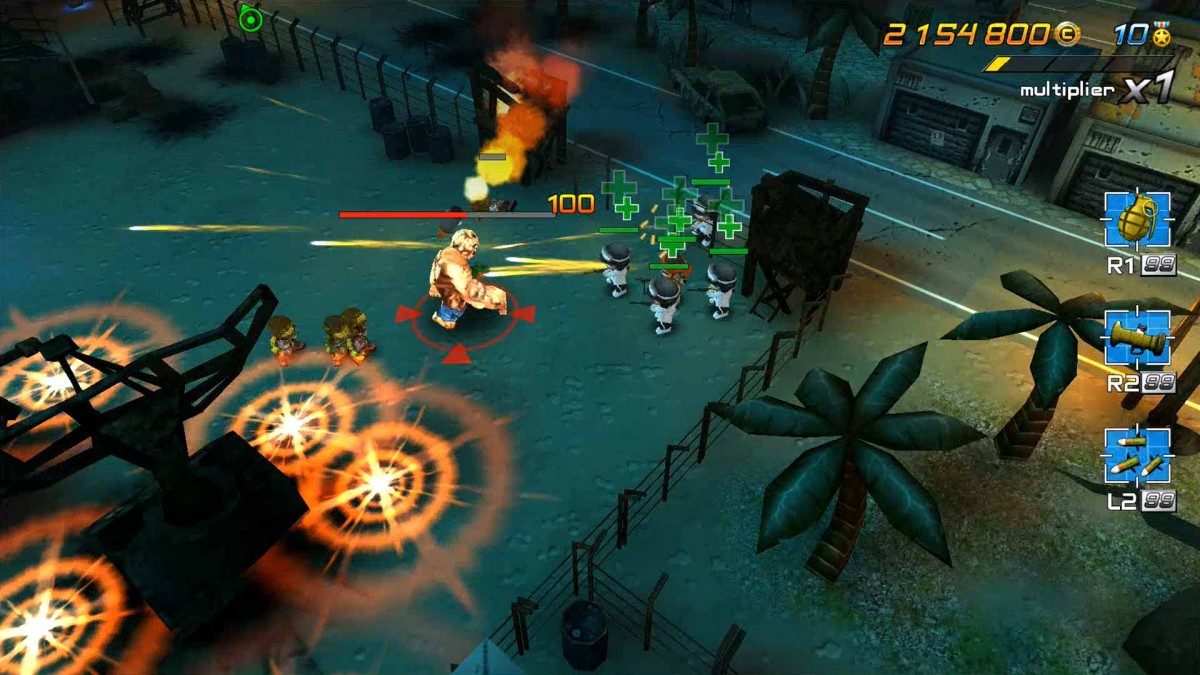 Look, I'm going to be straight with you, Tiny Troopers: Joint Ops XL is dull. It's been around for a while, and the need to port it to the Nintendo Switch seems to be a bit pointless. It's a top down twin-stick shooter that has you complete objectives with other soldiers to kill the enemy, or rescue a hostage, ultimately feeling repetitive and uninspiring. Some of the levels are rather big, but most can be finished in a short amount of time; it's just a matter of whether or not you really want to.
The AI isn't great, but in the Zombie campaign, it can be enjoyable for a bit of time because the undead act a bit more chipper than the soldiers from the other modes. My main issue, though, is the cumbersome shooting; twin-stick shooting should be responsive, and the aiming should be sharper than it is. Unfortunately, I had issue hitting targets at times because of the issues lacking in this department. Still, there are plenty of collectables and a lot of missions, so if you've always fancied playing the Tiny Troopers series, this might not be a bad place to start.
5/10
Furi
Originally scored 9/10 when released on PS4 on July 5, 2016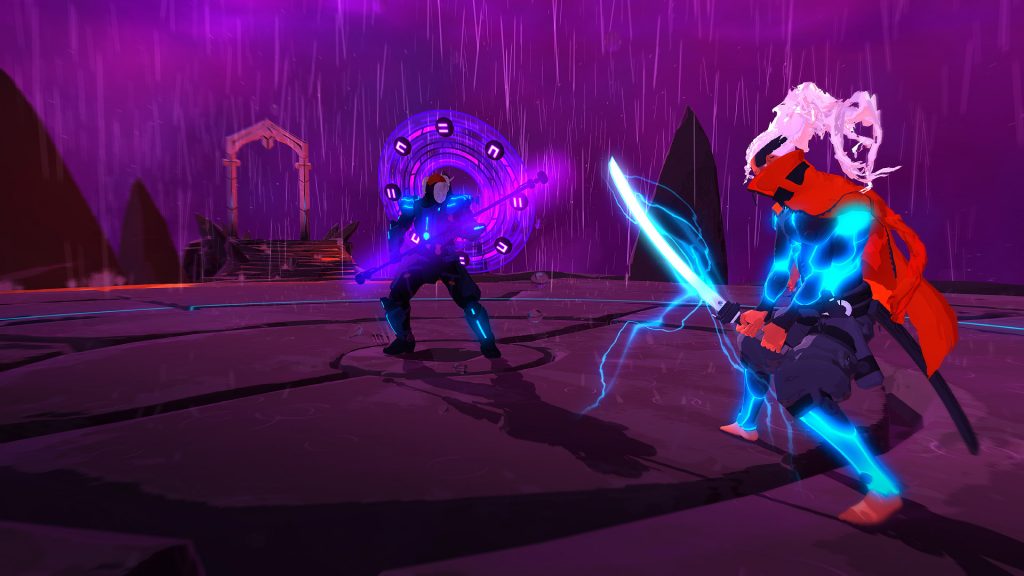 Furi is a very interesting game. It combines various aspects from different genres and manages to have its own identity. I originally played it when it was free on PS+ and it was quite an experience. As the name suggests, it will probably frustrate you with difficulty early on but it is one of the more rewarding games in recent times. Furi is basically boss fights separated by story segments that play out like walking simulator games. All of this is held together by a soundtrack that would not feel out of place in Hotline Miami and visuals that suit the synth wave music well.
The boss fights are a mixture of melee moments, bullet hell segments, precision dodging, and more. There is a parry system that lets you brutally attack the enemy as well. The story segments in between fights are hit or miss. In a lot of cases, I found myself just wanting to skip them and get to the next fight.
The resolution takes a hit compared to both other consoles. In fact the image quality difference is pretty apparent in docked mode. In handheld while even lower than docked, many things are less noticeable thanks to the screen. Performance has been similar in both modes for me with an unlocked frame rate. There are instances of slow down during sequences with loads of bullets and effects on screen. These need to be fixed but aren't a huge deal breaker considering I ran into issues on PS4 as well around launch.
It has been ace playing Furi on the Switch and while the port isn't perfect, Furi on Switch is a great way to experience the game.
7.5/10
Enter the Gungeon
Originally scored 8/10 when released on PS4 on April 5, 2016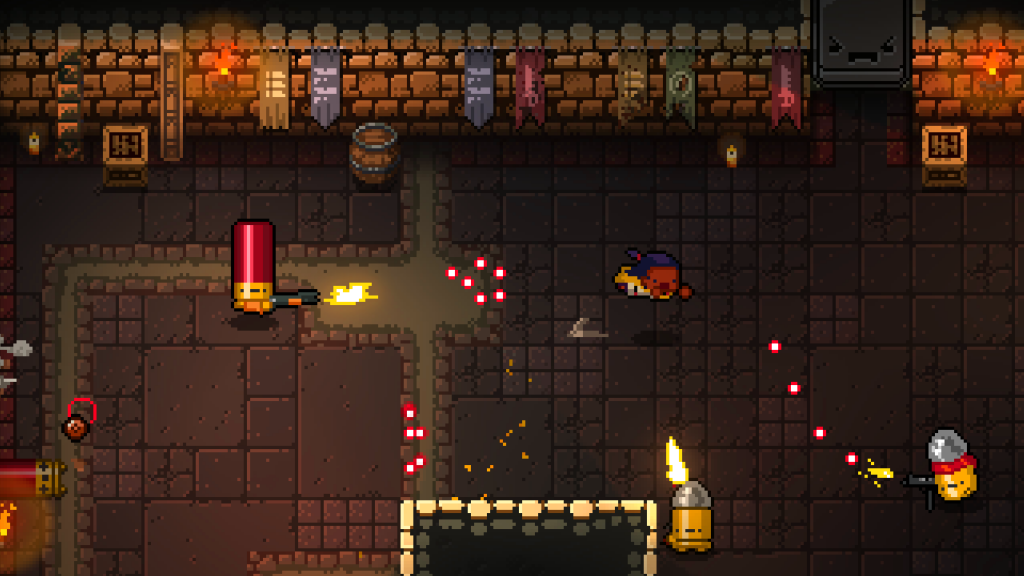 Dodge Roll and Devolver Digital's Enter the Gungeon is an excellent roguelike with lots of bullet hell sprinkled in. I played a ton of Gungeon on PS4 when it released nearly 2 years ago and was more than excited to get portable with the Switch release.
If you've never played this, it feels a bit like Nuclear Throne but isn't broken on consoles. There are four playable characters with unique abilities and your aim is to descend into the Gungeon with randomly generated floors with rooms. Dodge rolling is a big mechanic here and boss fights are frustrating but eventually fun. The Switch version isn't as good as the PS4 and PC versions in performance and visuals though. The content feels endless and I've not even come remotely close to being bored. Gungeon oozes style and charm.
There are 3 visual modes here. The first prioritizes frame rate, the second visuals, and finally a balanced mode. I'd recommend sticking to speed or framerate mode because the others suffer a lot when things get hectic on screen. Neither is ideal in its current state sadly. The bigger issue for me is the super long load times. I really hope they patch this soon because despite the issues, I've had a blast playing portable Enter the Gungeon.
8/10
Pinball FX3
Originally released for PS4, Xbox One, and PC on September 26, 2017
Zen Studios brought Pinball FX3 to Switch in the middle of December and with it multiple tables. I look at this release as more of a pinball platform than a game because while it does come with stuff in the free release, the bulk of Pinball FX3 is the lovely and well made tables from various licenses or the original ones from Zen Studios. As with many other indies on Switch, Pinball FX3 can communicate with PC and Xbox One players and not PlayStation 4 players.
The highlights of this version of Pinball FX3 are no doubt in handheld mode. While HD rumble is ace and works in both modes, playing Pinball FX3 in TATE mode on the Hori Playstand is superb. In docked mode, visuals are poor. It is really disappointing seeing how bad this looks on a TV. Performance is fine but I can't get over how bad the visuals are docked. Handheld mode is the opposite. It looks nice on the Switch screen but the performance is not ideal. It isn't even a locked 30fps because I've noticed it dropping now and then.
I hope they patch these issues out because the game itself with progression, content, and the lovely gameplay is well worth checking out. You can download it for free and check out the basics. Out of the licensed tables, I love the Back to the Future one and have been playing mostly on that one.
6.5/10