Release Date
January 12, 2016.
I've seen cancer up close. First I saw my aunt taken slowly, from a distance, then my father. It hurts me every day that my own children will never get to meet their grandfather; a man I idolised but lost before I had a chance to truly mature and understand. I sat in the room as the doctor told him he wouldn't make it to Christmas, and then sat at a meal table gorging myself stupid as he proved them wrong. But then I watched a man who fought for his country, who took a bullet in the leg, lose his dignity at a pace that is scarier than anything I've ever seen in my life. Then, finally, I watched him slip away, almost as if he himself had decided enough was enough, and he could fight no longer. It was brutal, and I never want to see it again.
I tell you this not to be self indulgent, I tell you this because even after all of that, I don't understand cancer. I'm not religious, really – I believe in karma: be good to others, and others will be good to you – but I do believe that cancer is the devil; pure evil. It strikes without mercy, no conscience: it doesn't care if its victim is a 60 year old man, nor if it's a child. But fucking hell, to lose a child? I… can't bare that thought, and I didn't want to play That Dragon, Cancer. But I believe that every subject is fair game, and I think we're so lucky to be able to experience a form of media where nothing is off limits: anything can be discussed and shown, with the right care and attention.
It's important you know that, if you have any experience like mine, this game will break you. You will be in tears as you discover the story of Joel; a small child who has cancer, and you won't want to go on, because it is very, very hard going, exactly as you'd expect. But making you cry doesn't make it a good game, it's how interesting it is that does that. So many themes swirl around, and things swing wildly between religion, hope, loss, love, and just so, so much more. That Dragon, Cancer is an important game that tackles so much, and it must be an unbearable burden that it took such events to create.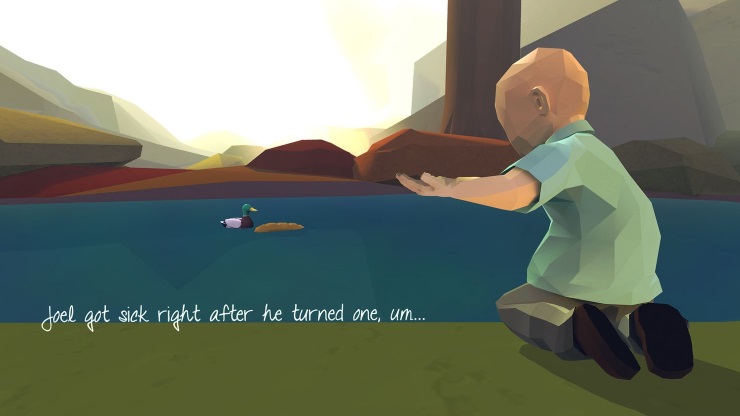 Central to the entire thing, of course, is pain. Harrowing audio is both chilling and identifiable in your own small world. Parents will recognise many feelings, but it does more than just appeal to the susceptible to emotive scenes; and everyone can identify with a pain that can't be taken away, no matter how hard you try. Mixed in with all is this is the fact that people don't always agree, even in times of true trauma, and there's even frustration here, as an unwavering faith in a miracle isn't necessarily something everyone can believe in.
If it feels like I'm being vague, that's because I am. The emotional gamut run here is draining like very few pieces of "entertainment" (and I use that word here cautiously) I've been through, and although the predominant feeling I had was that of despair and desperation, there are moments of happiness and hope. Stolen moments in a sad tale are nothing new, but there's something to knowing it's all real. As sad as it makes it, it's also comforting to know that something unbeatable didn't ruin a short life entirely, and that moments of happiness were had, however fleeting.
The symbolism is everywhere, from a soaring free bird, to the repeated notion of drowning, or the fact the faces are featureless – much of the emotion is drawn from the audio, which appears to be (at least in part) taken from recordings made during Joel's illness. It's heavy handed at times, but that's entirely forgivable given the subject matter. That said, this is a game that suffers in the pacing department, and some people are going to find some of the religious overtones tricky to digest.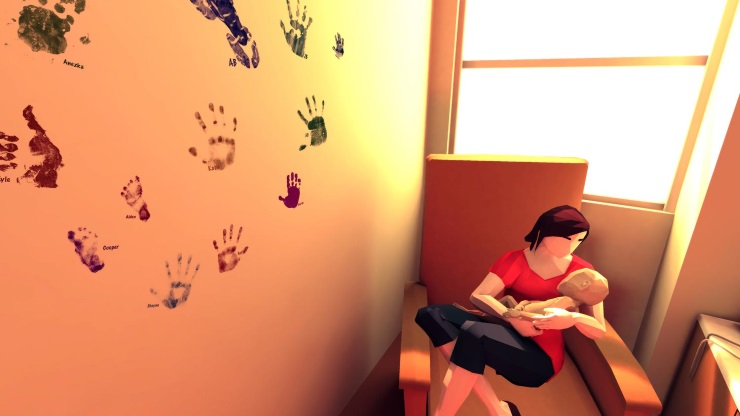 The one area that truly brings things it down as a game are the odd mini-games spaced out between the narrative progression. It's as though That Dragon, Cancer won't entirely give itself to the concept, and although the really "gamey" moments do, at times, have a deeper meaning, and feel significant, it'd have made for a better game were it to stick closer to the model of, say, Gone Home, which accepts and revels in the fact it's a narrative experience, and doesn't try to change things up in that manner.
A heartbreaking tale that ends as you'd expect is one that deserves to be told. Ultimately it feels as though this should matter, that Joel should matter, somehow, to more than just his parents. With That Dragon, Cancer, I feel that goal has been achieved. Moments that I've never seen in a game exist here, and ideas that are rarely (if ever) touched upon are also a large part of it. This is a brave, important experience, and one that feels like a form of therapy for the creators. As such, it doesn't matter what I think of it, or what you think of it, but that it serves its purpose. But you should play it (and it feels designed in a manner than anyone can, as it's in first-person but you just click to move) if you can, because games can be more than throwaway entertainment, and That Dragon, Cancer is proof of that. As such, it's truly unforgettable.
Review code provided by publisher.
Positives
Well told story.
Terrific audio throughout.
Rare to see such topics covered.
Negatives
Gamey moments let it down.
Pacing is slightly off.
This is a brave, important experience, and one that feels like a form of therapy for the creators. That Dragon, Cancer is truly unforgettable.