On the 22nd February, NeverDead will be getting its first multiplayer DLC pack, titled NeverDead Expansion Pack Volume 1
It's Friday, it's the end of the week, which means it's time for another instalment of A Week in Gaming! Each week I bring you the best content that the GodisaGeek team have produced over the past few days, including the latest reviews, the biggest news stories, and plently of other features and delights. This […]
Does NeverDead come in above its third person shooter peers and live on forever more, or does it just drop the first two syllables in its title and become straight up "Dead"? Find out with the full GodisaGeek.com review.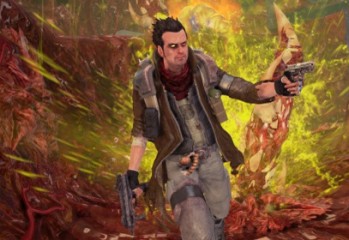 First Look brings you the first exciting 15 minutes of the upcoming third person shooter title called NeverDead, brought to you by Rebellion Developments and Konami.
The wonderful folks over at The Hut have given us a PS3 copy of Rebellion and Konami's latest title, NeverDead, for one lucky individual to win. NeverDead features the immortal Bryce Boltzmann, who is trying to defend the Earth from a marauding army of demons and hellspawn. The special thing about Bryce though is that […]
Konami Digital Entertainment today unveiled new screenshots for NeverDead, the upcoming action title for PlayStation 3 and Xbox 360 which is released on February 3rd.
Welcome to another edition of A Week in Gaming brought to you by your new Community Manager! This week we've got reviews of Sonic Generations on the 3DS and the new Need For Speed, as well as a preview of some of the games that will be accompanying the launch of the PlayStation Vita. We've […]
Those of you looking forward to Rebellion's NeverDead can now lose their heads (and other appendages) over the news that Konami have given the game a solid release date for Xbox 360 & PlayStation 3 – February 3rd, 2012.