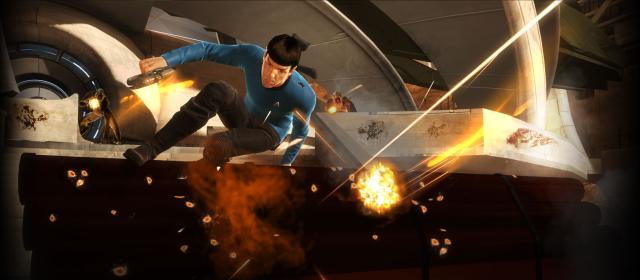 Star Trek boldly goes where so many have gone before, to the not-so-deep space of generic movie tie-ins.

The new film – Into Darkness – may not be released in cinemas for a couple of weeks, but Digital Extremes and Paramount pictures are preparing for take off with Star Trek: The Video Game at retail this Friday.

Digital Extremes and Paramount Pictures will be bringing an all-new Star Trek action-adventure game to retail this coming friday, based around the newly rebooted Star Trek motion picture series.

Star Trek: Into Darkness is on the horizon this May, as well as Namco's new Star Trek: The Video Game - which drops on the 26th April.
The action-packed combat game is set to launch the first quarter of 2013 prior to the May 17th theatrical release of the next Star Trek installment from director and producer J.J. Abrams.
News of the new Star Trek game has been hard to come by since the game was announced at E3 2011, but today Paramount and Namco Bandai have fed our hunger for more information by letting us know that it is still happening, while also giving us a release window of Q1 2013, prior to […]
Paramount Digital Entertainment and Electronic Arts announced today that Rango The Videogame is now available worldwide for the PlayStation 3, Xbox 360, Nintendo Wii and Nintendo DS consoles. Rango The Videogame is an action-adventure game inspired by the forthcoming Paramount Pictures/Nickelodeon Movies animated feature film, Rango in theaters on March 4th. Set in the gritty, […]