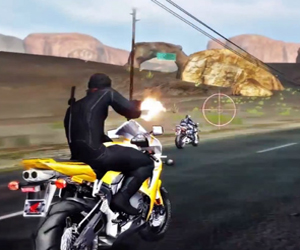 Many of you will remember the original Road Rash on the MegaDrive/Genesis from 1991 – which was then ported to tons of other consoles. It was a fast paced, action-packed motorcycle combat title and you may be able to play something similar, next year.
DarkSeas Games are looking for $160,000 to make Road Redemption and you can help them do that by funding their Kickstarter project which is currently sitting at nearly $37,000, with 27 days to go. The studio is noticeably excited about this as their Kickstarter plea reads:
"Road Redemption brings state-of-the-industry combat controls, insane crashes, destructible environments, AI, ragdoll physics, and online multiplayer to the classic formula.The Road Redemption team has been hard at work since early 2012, though preliminary design work started as far back as 2009. Road Redemption is the experience that we've been dying to play for over a decade. We need your help to make it the best experience possible."
With guns, melee attacks and explosives, DarkSeas are promising gameplay that "defined gaming on Sega Genesis, 3DS and Nintendo 64". About a month ago, Dan Geisler (co-designer of the original Road Rash games) expressed interest in Kickstarting his own Road Rash game and even though he's not involved with this project and still plans to go through with his own, he told Polygon that he fully supports DarkSeas' effort, too.
Currently, the game is being planned for Windows PC, Mac and Linux, with Wii U, 360 and PS4 being considered. If this is a runaway success, the team have also stated that Oculus Rift support will be a stretch goal for the Kickstarter.
You want one Road Rash game and then two of them (kind of) come along at the same time. It's like a bus…but it's a bike.