Release Date
November 7, 2014
I can relate to David Moyes. He had some great years at Everton and really proved himself to be a manager worthy of a bigger club, but when he became the successor to Sir Alex Ferguson, it all came apart. Upon taking the job at the Theatre of Dreams, I instantly started to feel the heat, too. The board were putting pressure on me, my players didn't have faith, and I wasn't even sure myself if I'd taken on more than I'd bargained for. By early November I'd accumulated six losses in the league, including an embarrassing 10-3 at the hands of The Special One's Chelsea, and found myself toiling in mid-table mediocrity. The board gave me an ultimatum; either get three points against Everton in the upcoming game, or get down to the job centre and start looking for new employment.
Ten wins on the trot later. it's early January, and Manchester United are just four points off league leaders Chelsea, in third place. I can hear the "Ooooh, Rob-in Van Per-sie" chants (in my head) as the Dutch striker puts the ball in Leicester's net as we celebrate an 8-0 win.
Football Manager is an institution at this stage. Year after year, Sports Interactive's cult following eats up their management sim like Adriano devours pies. The stories are infamous at this stage; friends calling in sick to work because they've taken Bolton to the Champions League semi-final against Bayern Munich, college students dropping out because it's Old Firm day and they just can't wait to stick it to the other half of Glasgow. Football Manager 2015 doesn't reinvent the genre, but it tweaks enough to satiate long time players.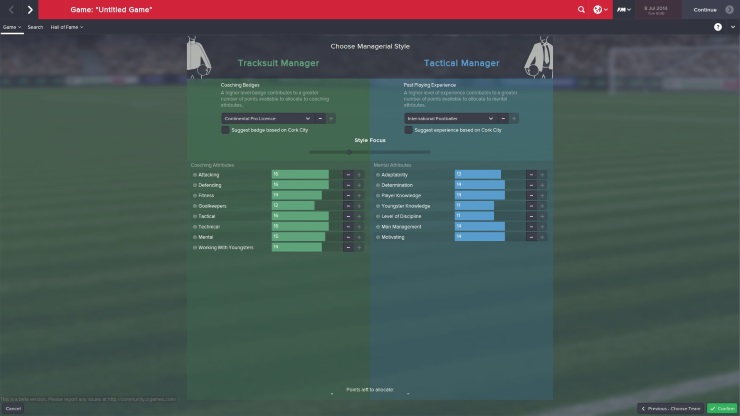 When starting out your career as professional babysitter for a group of overgrown children, you're given the option of being either a tracksuit manager, or a tactical manager. Sure, you can walk the fine line of trying to keep all plates spinning at the one time, but things may come unglued because of your aspirations to become all things to all men. These options aren't related to a costume change, it must be said. The tracksuit manager is more of a hands-on type of choice, where you apply your trade as a coach, working with the upcoming stars of your club and apply your mental prowess on the training pitch. The tactical, suit-wearing manager revolves around your ability to deal with player concerns, your motivational skills, and things of that ilk. With a number of points to spend on both sides of the managerial spectrum, it's important to use them wisely, as a manager that's more inclined to focus on drills on the training pitch will have a squad of players that aren't as receptive to changing tactics mid-way through a cold, wet Wednesday night in Stoke.
Among some of the changes is the ability to scream encouragement (or abuse) from the sidelines during a match. Changing tactics has been here before, but now, as well as team talks before and after matches, you can shout instructions during the ninety minutes of play. If you want your team to push forward; you can tell your eleven men to do so. If you need your winger to concentrate more; you can. How much they listen to your demands is debatable if you've lost control of the dressing room, of course. But that isn't the only place you can get chatty, as Football Manger 2015 sees you speaking with the media on a more regular basis with pre and post-match interviews.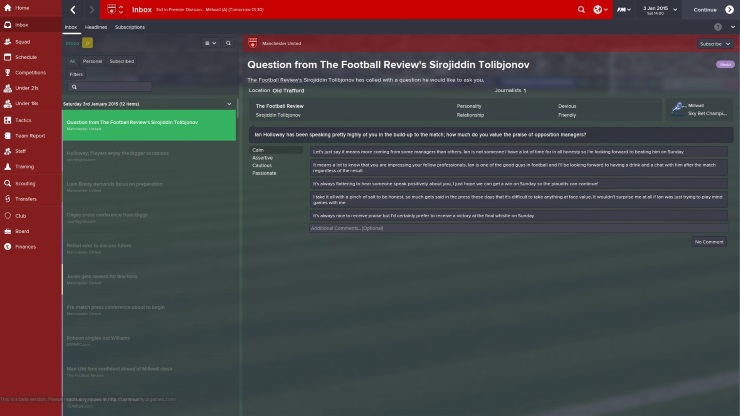 Some journos will grill you about your decision to drop your first-choice keeper, and others will give you an easy ride with generic questions – but you can approach them as you see fit. There are a couple of answers available to you with every brainbuster that someone from Football365 or TalkSport will throw at you, and you can answer them in a calm tone, an assertive tone, or however you'd like. This will naturally affect their write-up and you may end up with egg on your face in the eyes of the general public. While these interviews are another step in immersing the wannabe coach, there are occasions where they'll leave you scratching your head. For example, Man Utd centre-half Phil Jones' contract was nearly due for renewal and I had negotiated terms with his greedy agent. Things were moving along swimmingly, but in a following press conference, I was asked about the situation and wasn't given a dialogue option to inform the press that talks had already taken place and things were nearly wrapped up. These inconsistencies break the immersion of an otherwise engrossing experience that prides itself in realism.
As a series, it's constantly striving for a more authentic atmosphere and tone, and the changes to acquiring talent reflect this. Your merry band of scouts that will scour the Earth for players that could wear your jersey are more important than ever before. While the ability to search for Lionel Messi and offer a bottle of Powerade and a packet of Walkers for his services is still there, your scouting staff is the key to success. All that depends on their knowledge attributes, though. Whereas before a scout would report back with a comprehensive breakdown of a player immediately, they will now initially return with a report consisting of a range of roundabout attribute scores. Send them out to watch the player again and this will become a more focused, more detailed report on the player. Yet another step toward the accurate portrayal that so many yearn for in this data-heavy sim.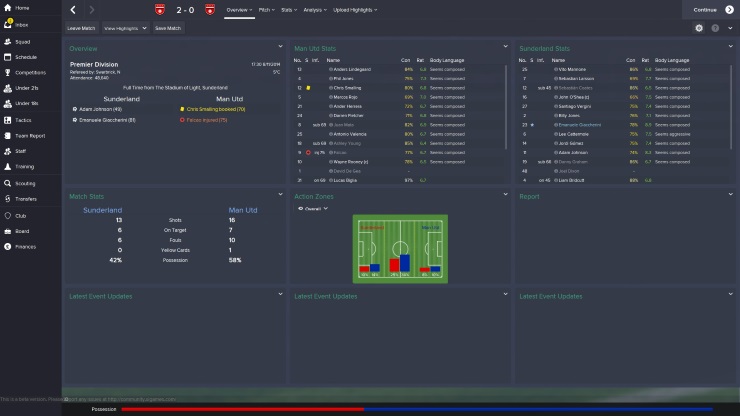 And Football Manager is exactly that: mounds of data being thrown in your face. It can get overwhelming when you find yourself going through a rabbit-hole of clicks, trying to get to the window you desire. In an effort to clean up the UI in this year's edition, there is now a bar on the left of the screen which will instantly take you to the most pressing issues of day-to-day management like your email inbox, your tactics for the next fixture, or your training schedule. Previously, some of these options were annoyingly hidden behind a few more clicks in a navbar on top of the screen. This clean-up job is definitely an improvement on the previous method.
What is, again, technically an improvement, is the 3D in-match engine. Football Manager 2015 is the first game in the series to use motion capture and even though it is a slight upgrade from the awful-looking engine used in older titles in the series, there's still a way to go. For the majority of the time, player movement is glitchy and models remain ugly. Now, it's common knowledge that most use the quick-paced text option when playing a match in Football Manager, but for those that were looking for a match engine that would rival FIFA or PES, temper your expectations.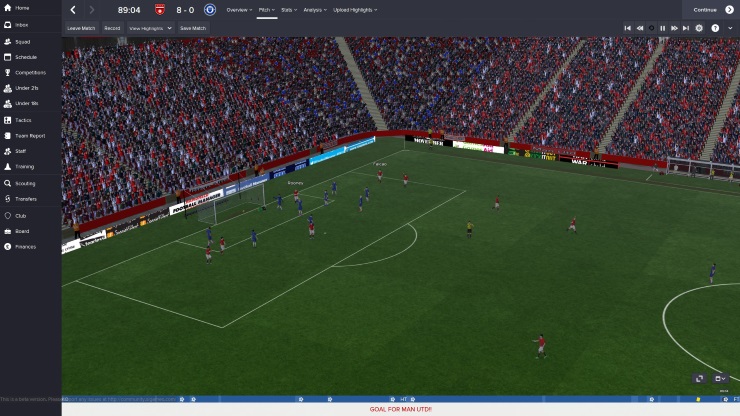 The challenge mode returns again this year to offer some variation to those looking to take on a scenario of varying difficulty and length, such as getting a team out of the relegation zone part-way through the season. There aren't many new challenges added to the mix, sadly, but they do compliment the main offering of Football Manager 2015.
The cult will grow with every passing year, I have no doubt about that. This year will be no different. The audience has been building with instalment after stellar instalment. Football Manager 2015 doesn't take the formula and mix things up too much this time around, but what it has added, gets you even closer to realising your dream of becoming a bonafide football manager. Plus, you can attend the FA Cup final while wearing your Roy Keane pyjamas in the comfort of your own home, and it doesn't get much better than that.
Review code provided by publisher.
Positives
Tracksuit/Tactical Manager contrast is welcome .
Added realism with scouting.
Slicker UI.
Negatives
In-match engine is still poor.
Data can overwhelm some.
It's Football Manager, with some welcome new additions.