Release Date
October 23, 2015.
Just Dance 2016 does exactly what it says on the tin. It isn't trying to be anything that it isn't and the simplicity at its core is what attracts fans to it in the first place. Regardless of this, it is plain to see that the wheels are starting to fall off and the ideas are starting to wane somewhat. It seems rather unnecessary to release a new game every year, especially because there is a constant lack of originality nowadays. Don't get me wrong: it is great at what it does, but it's only a matter of time before Ubisoft makes the same mistakes as the Rock Bands and Guitar Heroes of the last generation made; nobody puts baby in the corner, but maybe it's time to put the Just Dance games there instead.
Ubisoft has added some new modes to this year's entry in the franchise, and while many of them don't make a huge impact on the overall experience, they do try to freshen up proceedings a little. The new World Video Challenge is definitely a highlight; you can upload videos of yourself dancing and players around the world can watch and challenge them, resulting in hilarious dance battles that'll be more fun than you probably anticipate. I took on a chap from the US and his uncomfortably weird dance was vastly entertaining, whether he was genuinely trying or not. Staying on the subject of videos, you can also create music videos (sort of) in Showtime mode and upload them to Just Dance TV for others to enjoy.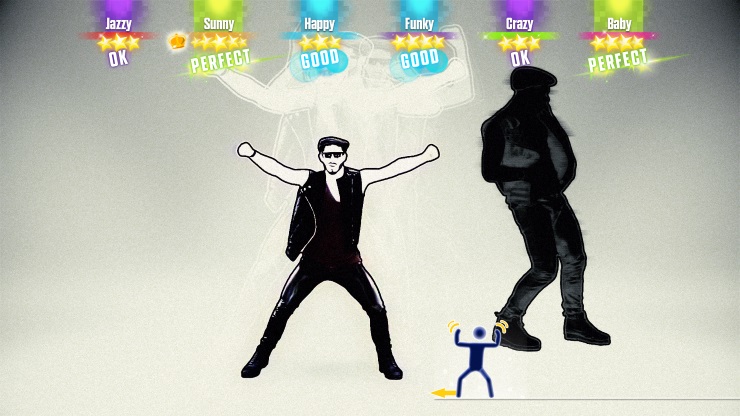 There has been a slight tweak to the Dance Party mode that lets you team up with a friend to earn more points as well. Dance Quest mode lets you undertake different 3-song challenges that, once beaten, unlock more quests and points, and the Sweat and Playlist mode allows you to fully customise a playlist to dance along to. On the surface of it, these new modes and modifications to last year's Just Dance may appear to add more to a flagging franchise, but playing the game first hand only highlights how none of these modes do anything to bring back a freshness that has been absent for a very long time.
The songs have started to become more abstract and unknown; you can dance along to Lady Gaga, Jason Derulo and Bruno Mars, but there is also a lot of filler on the track listing, and after dancing to Uptown Funk for the twentieth time, you may find that boredom begins to creep in. In a way to combat this, Ubisoft has introduced Just Dance Unlimited: a subscription-based service that promises over 150 songs to dance to as many times as you like, although you'll be expected to pay the kind of prices of services like PlayStation Plus and Xbox Live Gold. If you love Just Dance, this service may be right up your street, but for a game that already sells for around £40, you may find these additional costs rather unnecessary, especially when the original track list is so poor.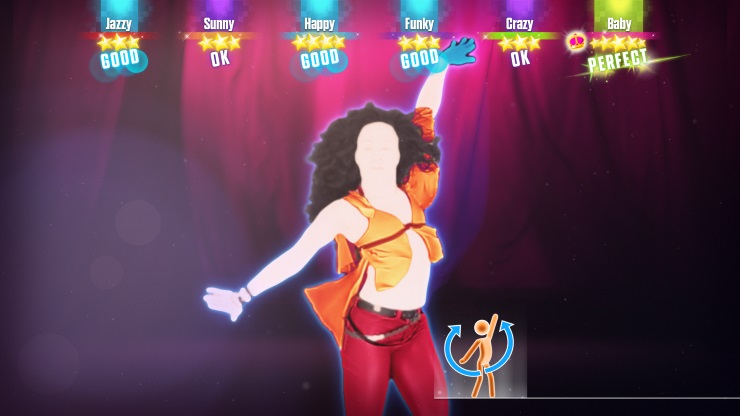 In one of Just Dance 2016's better moves, you can now use your smartphone to control the game (Xbox One, PS4 and Wii U only) which means that starting a dance is easier than ever. The app is incredibly responsive and it manages to capture every move you make while dancing along. It would be an idea to check compatibility before you buy, but my Samsung 5s worked without a single issue and it is available on both the Apple Store and Google Play.
Just Dance 2016 looks like a rainbow in a washing machine; colour encompasses every inch of the screen and its vibrancy makes the experience better for it. The dancers have some questionable outfits and moves, but on the whole the game offers a great amount of amusement. It is perfect to play with your friends, partner or kids because it wants you to have a good time with the ones you love. Just Dance 2016 may not offer anything original this time around, but it manages to retain the fun that has been there since day one.
I got 10,500 points for absolutely nailing the dance routine for the William Tell Overture; the onscreen dancers dressed as horseracing jockeys showed me a routine that proved a challenge, but I nailed it and felt pretty good about myself (and on reflection, I never thought I'd say anything like that in a review!). I even trod on my daughter's pencil sharpener in the process and remained composed, even though the pain hurt like hell. Just Dance 2016 isn't revolutionary or original, but it will make you smile profusely and give you, your friends and your family plenty of opportunities to make great memories.
Review code provided by publisher.
Positives
Smartphone functionality is great.
World Video Challenge is a nice addition.
Vibrant visuals.
Negatives
Weak song catalogue.
New modes only feel like more of the same.
Does nothing new.
Just Dance 2016 is best when playing with friends and family, but it's no more than a mild improvement on the last.