Dungeon Gate infiltrates its way onto PC in September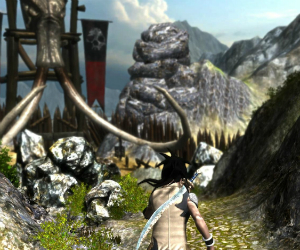 Do you yearn for a new fantasy RPG to keep you occupied after Skyrim and Kingdoms of Amalur? Well, Toronto-based Wild Games Studio are looking to help you with the release of Dungeon Gate in September.  
However, it's not just a generic RPG! Ever wanted to take the sneaky approach in an RPG and failed? Well, with the ability to impersonate any enemy or NPC in Dungeon Gate, now you can destroy the enemy from within!
Set in the world of Barillion, your ultimate deception comes against a backdrop of devastation by hordes of dragons. In a small village, all but two babies were slaughtered. One was taken by the dragons, and one by a mysterious mage. As two decades passed, Barillon fell under the rule of a tyrannical leader who controlled the dragons and uses them to enslave the populace. Taking on the role of Dysan, you have to sneak, slaughter and stab Barillon free from under the boot of totalitarianism.
Rather than subscribe to the RPG cliche of selecting a class, Dysan's powers are developed over time by training the skills of those whose DNA he drained in order to impersonate them. The lethal actor, therefore, has plenty of abilities, talents and special powers at his disposal, provided he can acquire them from others.
Published by Lace Mamba, both digital and retail versions of Dungeon Gate hit the PC on September the 14th, so that gives you plenty of time to prepare for the biggest performance of your life.
[nggallery id=904]