Kylie Minogue comes to Wii for Christmas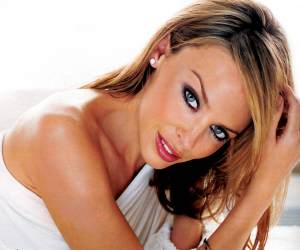 For those of you who have been waiting anxiously for years to be able to bust out and "do the Loco-Motion" in an console-based dancing game – good news! Kylie Sing & Dance will be coming to Wii consoles just in time for those wild Christmas parties this year.
Coming from Koch Media and Tubby Games, the game will allow you to sing along and strut your stuff to an extensive playlist of hits from the breadth of the career of one of our most enduring female pop stars. Kylie Minogue has been in the business for a long time now, and will be celebrating her twenty-fifth anniversary this year – so what better time is there to take a gaming look back at her career.
As well as the aforementioned Loco-Motion, the game will features hits such as; Tears On My Pillow, Spinning Around, I Should Be So Lucky, Can't Get You Out Of My Head, Better The Devil You Know, Especially For You, Get Outta My Way, Time Bomb and Kylie's latest 2012 single Flower. With a playlist that packed, fans should be busy dancing and crooning well into the new year.
See the front cover art below:
[nggallery id=1107]
Kylie Sing & Dance will be available in the UK exclusively for the Nintendo's Wii on 30th November 2012.