A well known synthwave trio called GUNSHIP are releasing a new self titled album, but why is that the concern of a game website? I hear you ask. Well, just let me explain.
Gunship's 13-track long album will be released on a cassette. On side A of the golden tape will be the album which is brimming with great cyberpunk tunes. On side B, however, there will be a fully playable copy of the Commodore 64 classic 'Attack of the Mutant Camels'.
So the cassette isn't only an album, it doubles up as a game cartridge too.
On the album GUNSHIP said:
"The games for the early video game systems like the Commodore Vic 20, C64, Atari 2600 and latterly the Amiga 500 were huge influences on our imaginations growing up. At that me game development felt like a genuine free for all where unrestricted creativity flourished and imagination was unchecked by the yet to arrive influence of big business and its risk-averse practices. We love this era for its simplistic charm and raw creativity and certainly try to take these influences and values and implement them in GUNSHIP's music."
Watch the wonderfully retro trailer below:
To celebrate the announcement of the cassette, GUNSHIP are running a completion in which you could win a unique, custom neon pink Commodore 64 to play their new release on.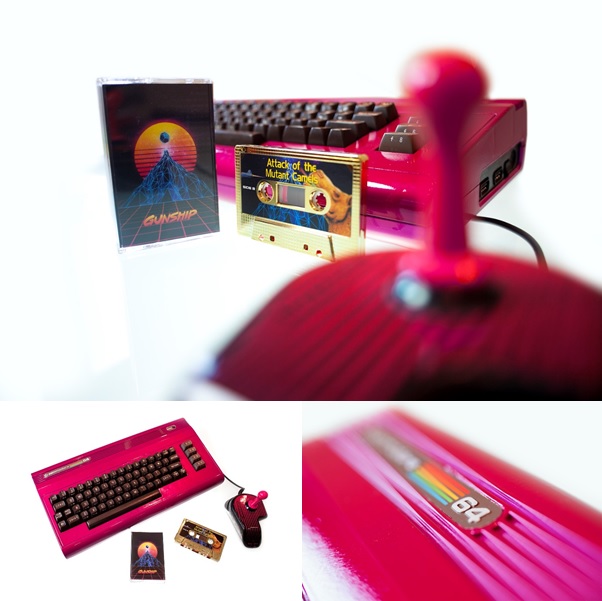 It's simple to win, all you have to do is get the highest possible score on the Amiga/Atari ST game 'Llamatron', an emulator of which has been set up and can be found by clicking here.
If you reach a high score you will be asked to enter your name, at that point enter your twitter handle (or as much as you can fit) then a take a picture of yourself alongside the high score table and tweet it to @GUNSHIPmusic, with the hashtag #LlamasAteMyParents.
The completion closed December 10th.