Last week I sat down with the folks at Lionhead Studios for a preview and play of the new Kinect title Fable: The Journey. Gary Carr, Executive Producer, walked me through the back story; you don't play the hero bloodline that have been the protagonists in previous Fable adventures. Instead, you play an ordinary person […]
On Thursday December 8th San Francisco's DNA Lounge was abuzz with the sound of [rock] music. Gamers and Industry professionals came from all over to participate in Ümlouds 3rd annual non-profit gaming fundraiser for Child's Play. Childs Play is a game industry charity dedicated to improving the lives of children with toys and games in […]
GodisaGeek have held the flag high for peer-to-peer video game swapping website GaBoom since its initial launch in 2010. It's gone from strength to strength over the past year attracting over 10,000 users and facilitating thousands of video game swaps. On the 1st of November GaBoom relaunched the site with a plethora of new features. […]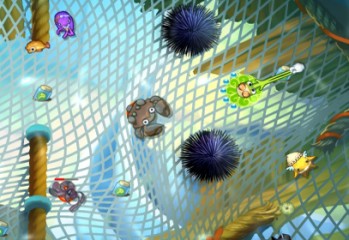 We recently sat down with Audrey Leprince and Emeric Thoa from The Game Bakers studio to talk about their latest title Squids.
Square Enix release new screenshots and artwork from Dissidia 012 Final Fantasy
Those lucky enough to be at CES 2011 today were treated to a special extended 3D trailer of Naughty Dog's latest installment: Uncharted 3: Drake's Deception. The trailer is pretty similar to the VGA trailer revealed last month, but with a ...
The BBC iPlayer has enjoyed much success in the UK, sitting on the PS3 XMB for some time. If newspaper The Guardian, is to be believed, the XMB video streaming options are set to expand further this week, adding two new channels: ITV Player and 4OD. It is unclear if this move is the addition [...]