Marvel in the glory of a teddy bear massacre on the beach, in new trailer for Naughty Bear: Panic in Paradise
It's probably a bit of a surprise that Behaviour Interactive have come out with a sequel to Naughty Bear. Maybe this time Naughty Bear can do things a little bit better. Read the full review at GodisaGeek.com.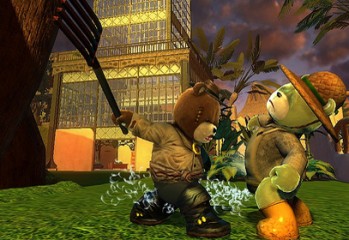 When you hear the name "Naughty Bear", you'd be forgiven for visibly shuddering. The first game wasn't very good, but sometimes, going back to the drawing board can be exactly what a franchise needs. This second instalment does exactly that, with wholesale changes to how the game plays, it has potential to be a whole lot more fun. Watch the whole preview at GodisaGeek.com.
Paramount Digital Entertainment and Electronic Arts announced today that Rango The Videogame is now available worldwide for the PlayStation 3, Xbox 360, Nintendo Wii and Nintendo DS consoles. Rango The Videogame is an action-adventure game inspired by the forthcoming Paramount Pictures/Nickelodeon Movies animated feature film, Rango in theaters on March 4th. Set in the gritty, […]