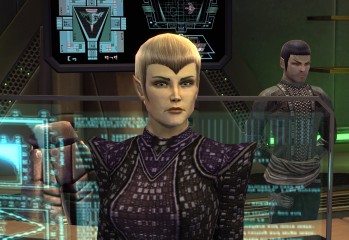 Only weeks after celebrating their third year anniversary, and a year since the game turned Free-to-Play, Star Trek Online has announced a brand new expansion: Legacy of Romulus.
If you follow MMO news on GodisaGeek, you'll know that Atari and Cryptic Studios recently celebrated the 1 year anniversary of Star Trek Online. That means it's been almost a year since our initial review of the game. We felt it was time to give you an update on the ins-and-outs of the Online adaptation of Roddenberry's Universe. An […]
To celebrate the "pretty overwhelming" relaunch of MMO Champions Online as a free-to-play title, Atari and Cryptic are going to be giving out a special XP bonus as a way of thanking all players, new or old! Champions Online went "free for all" on January the 25th and has enjoyed "hundreds of thousands" of players […]
Cryptic Studios' superhero based MMO, Champions Online, is due to go free-to-play in the first quarter of next year with a beta for current players starting on November 9th. The free-to-play model will be similar to the model adopted by Sony Online Entertainment for EverQuest II: Extended. The main game is free to play, for […]
It's been another great week in gaming. Team GodisaGeek have been here, there and everywhere playing as many unreleased titles as one can possible play in a week. We've drank copious amounts of 'Blue Spartan Drink' and mingled with a shameful amount of celebrities. Put the anime on pause, sit back, grab a cuppa and let me […]
It is time to break out that MMO super hero birthday cake as Atari and Cryptic Studios celebrate the one year anniversary of the massively multi-player online game, Champions Online. How can you join in on the celebrations? Simple, new players can claim a free 7 day trial whilst current players of the game get 20% off merchandise at […]
Game: Star Trek Online Developer: Cryptic Studios Publisher: Atari Available on: PC from Play, Amazon (UK Link | US Link) Find out what we thought of the brand new MMORPG from Cryptic Studios, after the jump.