Sit back and take a look at the unboxing of the Collector's Edition of Darksiders II. Check out the full video at GodisaGeek.com.
Darksiders II is a serious Game of the Year contender, a title that a gamer dreams of indulging themselves with and something that the guys over at Vigil Games can truly be proud of.
THQ have announced some more new modes for the upcoming Darksiders 2 – Sharpen your blades, 'cos it's going to be a bloodbath!
Remember a short while ago, our resident Achievement master Lee Garbutt got extended hands-on with Darksiders II? Well, he also had a good forty minute chat with Vigil Games' Lead Designer Haydn Dalton, as well as Art Director Han Randhawa.
Full of epic battles and gameplay, the latest trailer for THQ and Vigil Games' upcoming sequel to Darksiders does enough to whet the appetite for destruction that the series seeks to satiate.
Death is coming and we take a look at one of our most eagerly awaited games of the year. Time to grab some loot and reap some souls in Darksiders II. Read the full preview over at GodisaGeek.com.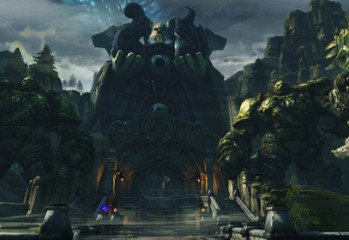 GodisaGeek Interviewed with Jeremy Greiner, Creative Manager at THQ; about Darksiders II. Play as Death and bring death to all who oppose you. Read the full interview at GodisaGeek.com.