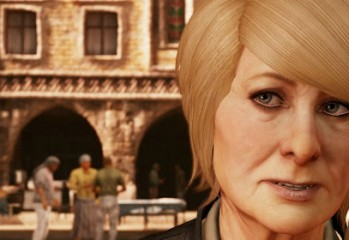 In this week's edition of Character Select, Mary takes a close look at Uncharted's Katherine Marlowe. Read the full article at GodisaGeek.com.
One of PlayStation 3's biggest games of 2011 is getting bigger - Uncharted 3: Drake's Deception Game of The Year Edition is coming!
Uncharted 3 can't get the top spot as Battlefield 3 holds it off in this week's UK Charts.
When Uncharted: Drake's Fortune was released, gamers and critics were united in praise for what Naughty Dog had achieved - in places the title needed tweaking, and with Uncharted 2: Among Thieves, it seemed that they had eclipsed themselves and just about every other developer out there. If gaming perfection is indeed a possibility, you'd be hard pushed to find a closer definition than Uncharted 2, so it is with enormous fanfare that Drake's Deception is released, with gamers everywhere wondering if this incredi...
Watch this brand new behind-the-scenes video from Uncharted 3: Drake's Deception detailing the process of capturing the motions of all the characters in the game.
Eager beaver gamers will be given a chance this Saturday (that's the 15th  October) to attend a developer session with Naughty Dog for the upcoming release of Uncharted 3: Drake's Deception. The invite is open exclusively to members of PlayStation Access. Those in attendance will be taken to a secret London venue inspired by the fictitious Pelican […]
In a move that can only be described as fantastic, Sony have today announced the follow up to Uncharted 2: Among Thieves. The third Uncharted game will be called "Drake's Deception" and quite frankly, even though we all knew it was surely coming, we here at GodisaGeek couldn't be more excited! Fans of the franchise […]