Last year we saw the release of the console versions of F1 2011 but those people that wanted to get their F1 on while they're travelling had to wait a little bit longer. There's been a Nintendo 3DS version released but is the PlayStation Vita version the definitive handheld version of the racing title? Find out with the GodisaGeek.com review.
Tomorrow sees the launch of the PlayStation Vita, and in the grand game of retail one-upmanship there are numerous special offers and bundles available for the PlayStation Vita. It can be quite daunting when trying to find a good deal, so we decided to make things easy by presenting a list of the best deals […]
Plenty of Vita excitement going on, for tomorrow is the system's official EU launch day. Codemasters have just reminded us that F1 2011 will be one of the system's launch titles, so were passing on the news to you with the launch trailer!
In a crowded market of expensive wheels, can Mad Catz make a dent with this Wireless Force Feedback Racing Wheel? Find out with the full GodisaGeek.com review.
It's Friday, it's the end of the week, which means it's time for another instalment of A Week in Gaming! Each week I bring you the best content that the GodisaGeek team have produced over the past few days, including the latest reviews, the biggest news stories, and plently of other features and delights. This […]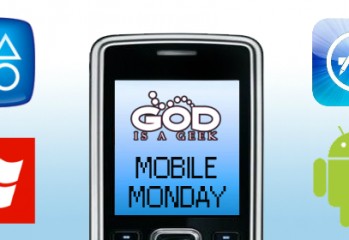 It's Monday again and we've got another four games for you to try out here at GodisaGeek.com. Don't forget to come back and tell us what you thought. This week we've got F1 2011, Order Up!, The Glowing Void 2 and Hero Academy.
F1 2011 is available to buy now on Nintendo 3DS! Check here for all the details!
Petrolheads who like to race on the go, will no doubt be delighted by the news that Codemasters will be releasing their PlayStation Vita version of F1 2011 as a launch title, when the tiny technical powerhouse is released on 22nd February, 2012.
Codemasters announce that F1 2011 will be available for Nintendo 3DS from the 25th of November in Europe.