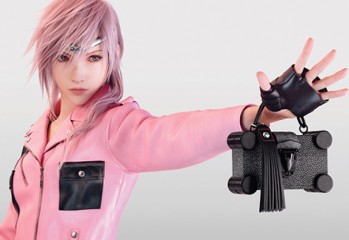 So you think you can pull off this choco..outfit?
Final Fantasy XIII-2 DLC Slashed Up To 50%. Read the full news post at GodisaGeek.com.
All we know about the story so far is that it takes place quite a long time after Final Fantasy XIII-2 and is set in a world called Novus Partus, and that the doomsday countdown means that the world will end in 13 days. A clock will constantly count down in the corner of the screen to remind players of the imminent doom.
Square Enix have today announced the final pieces of content for Final Fantasy XIII-2.
The collaborations for Final Fantasy XIII-2 continue. We've already had the Altair outfits from Assassin's Creed, but now EA have teamed up with Square-Enix to provide Mass Effect 3's N7 armour for Final Fantasy XIII-2 players.
A rather unconventional introduction to the Godcast this week, as we find Adam, Calvin, Terry and Tony in fine moods, singing moods, if you will.
Noel And Serah change their kit for some Final Fantasy XIII-2 DLC.
New games everyone! Electronic Arts will wake up happy this morning, as Kingdoms of Amalur: Reckoning is the new UK number one. Full charts on GodisaGeek.com
All it took to knock FIFA 12 off the top spot was a behemoth of an JRPG and the re-release of the biggest stealth action games of all time!