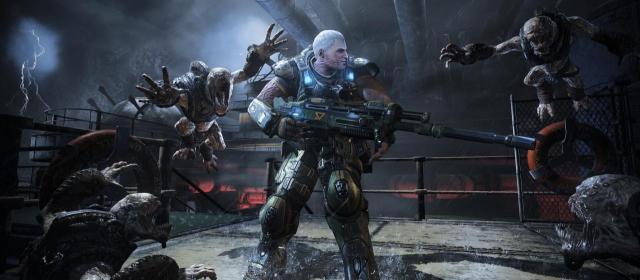 Gears of MAXIMum War...am I right? Sorry, that was poor.

Gears of War: Judgment's second piece of downloadable content will introduce the Master of Arms mode and three brand new maps.

This week in the UK video games charts sees very little change in positions, and very little new entries. BioShock Infinite stays on top for the third week, whilst Tomb Raider stays in third place.

Martin is back this week to chat about the kickstarter projects he's been playing, whilst Adam isn't happy with some of the Gears of War: Judgment multiplayer changes, Calvin has gone back to Terraria, and Lee is ignoring BioShock Infinite, in favour of another game. But what game?

The first DLC has come to Judgment, and includes the popular Execution Mode, along with a new multiplayer map called Haven.

Adam returns to hosting duties this week, as we have a two hour plus podcast for you to enjoy.

Despite concerns that it was too soon for another Gears of War, it seems the public have gone out and purchased it anyway, as it enters the UK charts in first place.

It's finally time to unleash the beast within, as Calvin returns this week to host (Adam is still out sick) and talk about some SimCity. Joining Calv is fellow PC gaming superstar, Ben Skipper - who makes his debut.

Every game needs a crossbow nowadays and Gears of War: Judgment is no different as Epic reveal a new weapon - the Tripwire Crossbow.