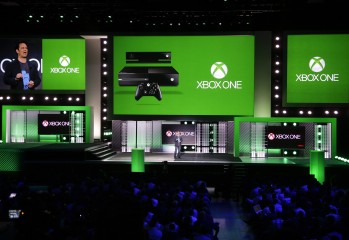 Possibility of streaming device and "new Xbox".
New Smaller PlayStation 3 This Autumn - 500g and 12g Flash Memory Models. Read the full news post at GodisaGeek.com.
When all is said and done, the 3DS has finally picked up steam and has a reasonable library of truly excellent games. If you don't own a 3DS yet, this really is the ideal time to jump in, especially if you can buy from a retailer bundling the charger for free. Read the full review at GodisaGeek.com.
If you could create the perfect next generation console, what would it be like? GodisaGeek.com's Lee Garbutt takes us through the possibilities. Read the full article at GodisaGeek.com.
If (like me) you are partial to delving into the world of retro gaming, then Blaze might have the handheld for you with their innovative retro handheld – GameGadget. Released on March 31st, this handheld could change the way we legally play retro games (without atrocious touch-screen controls).
In a recent interview with Gamespot at CES, Sony's director of hardware, John Koller is keeping optimistic about the release of the PS Vita
Nintendo have entered a Guinness World Record for their phenomenal success with the Wii Balance Board peripheral, and have sold a shedload of copies of Wii Fit/Wii Fit Plus.
Mad Catz, purveyors of quality console peripherals; have shipped the Primer – A Wireless Stereo headset for Xbox 360.