Another Monday means another edition of the UK video game charts are released, with LEGO Batman 2 retaining the top spot in a rather barren week of new releases.
Inversion, the gravity-defying third-person shooter from Saber Interactive and Namco Bandai games, will be hitting the shores in the EU territories this week. Find out what we thought of the game with the GodisaGeek.com review.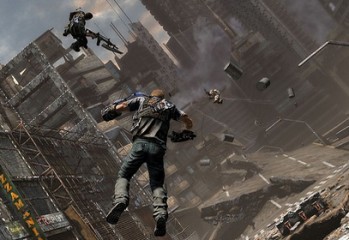 Take a look at the new game from Saber Interactive and Namco Bandai Games, the interesting lookings Inversion. Watch the video over at GodisaGeek.com.
Adam has played very little, so it's a good job Martin is here to save the day to talk about Quantum Conundrum, Inversion, Ratchet & Clank and more. Calvin has been busy too and is rather in love with Max Payne 3. Mark has falled foul of the addiction that is New Star Soccer, but has also started Oddworld: Stranger's Wrath.
Awww. Love and YouTube comes together and gives us guns. Of course! Namco Bandai and Tomska teamed up to promote the upcoming Inversion
We recently went hands on with upcoming third person shooter Inversion at a recent Namco event. See what we thought of the title in our hands-on preview.
Upcoming third-person shooter INVERSION (yes it's another one of those games that are all capitals!), developed by Saber Entertainment and published by Namco Bandai is looking rather intruiging. Due out next year, this trailer does little to calm confusion, though it's pretty cool nonetheless! INVERSION is a third-person co-op shooter that combines hard-hitting, adrenaline-pumping action […]