Criterion's upcoming Need For Speed: Most Wanted looks to have Kinect support as an ad for pre-order incentives shows.
Another collection of mini-games for Sony's PlayStation Move motion controller, but is this one any good? Find out in the GodisaGeek.com review of Carnival Island.
Xbox 360 with Kinect; You will either nod your head in acceptance or cringe at the notion. There seems to be no mid-ground, it's just like the old cliché goes, love it or hate it. Monetarily, the peripheral is by no means a failure. Microsoft has reported 10 million units shipped as of March 9th, 2011. It was able to push 8 million of those units in its first 60 days of release which is a guinness world record. Kinect has quite a few accolades already but with monster sales comes a monster amount of consumers to...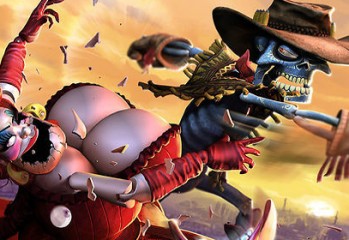 GodisaGeek.com's First Look feature returns to show you the first 15 minutes of the eagerly awaited Kinect title known as The Gunstringer, which is brought to you by the fantastic guys and girls at Twisted Pixel.
As you should all know by now, Twisted Pixel's eagerly anticipated title The Gunstringer, will be coming to your Xbox 360 on the 16th September, enabling you to help our skeletal hero blast away his former gang using your Kinect. So in the run up to the release of this title, the developers have released […]
Fans of crazy, over the top hack and slash games rejoice (it's a genre, we didn't make it up…we swear), as the good folks over at Konami have today released five brand new screenshots for No More Heroes: Heroes' Paradise. Scheduled for a PlayStation 3 release sometime in the second quarter of 2011, New No […]
It's episode 11 and Asim is back in the hot seat to discuss some of the latest gaming news. Myself, Aaron and Calvin are also on hand to give our views. The recently reviewed God of War III is discussed, Asim tells us how epic the game is and asks the question, is this really the end […]